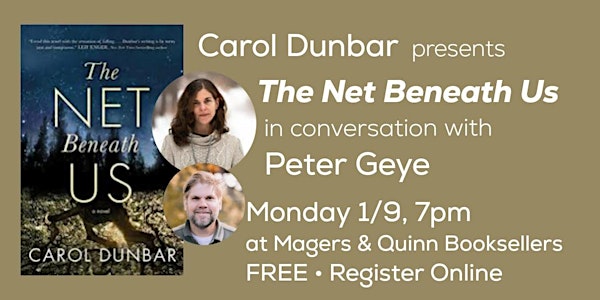 Carol Dunbar presents The Net Beneath Us in conversation with Peter Geye
Carol Dunbar presents The Net Beneath Us in conversation with Peter Geye
When and where
Location
Magers & Quinn Booksellers 3038 Hennepin Avenue Minneapolis, MN 55408
About this event
In the aftermath of her husband's logging accident, Elsa has more questions than answers about how to carry on while caring for their two small children in the unfinished house he was building for them in the woods of rural Wisconsin. To cope with the challenges of winter and the near-daily miscommunications from her in-laws, she forges her own relationship with the land, learning from and taking comfort in the trees her husband had so loved. If she wants to stay in their home, she must discover her own capabilities, and accept help from the people and places she least expects.
Carol Dunbar is a former actor, playwright, and coloratura soprano who left her life in the city to move off the grid. Her writing has appeared in The New York Times, The South Carolina Review, Midwestern Gothic, and on Wisconsin Public Radio. She writes from a solar-powered office on the second floor of a water tower in northern Wisconsin, where she lives in a house in the woods with her husband, two kids, and a giant Alaskan malamute. The Net Beneath Us is her first novel.
A note about in person events:
We are very excited to bring authors and readers back together in our space, and we know you are too!
As we all navigate the transition back to congregating in person, we ask that you use honesty, care, and understanding in interacting with fellow event-goers, staff, and authors.
Please note that Magers & Quinn will always comply with current city and state regulations, and reserves the right to change the below policies at any time. These are guidelines only, and if you have questions about the most up to date information, you can always call us at 612-822-4611.
For information about how our in-person events work, please read on:
Q: Are masks required?
A: Masks are not required to browse in the store. However, we strongly encourage masking while seated in the event area and waiting in the signing line.
For the health and safety of others, we strongly encourage you to wear a mask or face covering, especially for longer visits to the store such as events.
Q: Are in store events free?
A: Yes, Magers & Quinn events are free and open to the public unless otherwise noted.
Q: Do I need to RSVP?
A: Yes, please. Each event will now include a registration link.
As we navigate this step back to in-person events, we will be limiting event capacity to ensure a safe and comfortable experience for all attendees and authors. By requiring pre-registration, we can easily communicate event updates and policies with those who plan to attend, and can contact attendees after the event with follow-up information.
We strongly suggest registering via the Eventbrite link provided on our website, but if you are unable to sign up online, please call or visit the bookstore and register with a bookseller.
We may or may not be able to accommodate unregistered walk-ins, and seating priority will always be given to registered customers. We appreciate your understanding of this process!