7 events 1 weekend 1 great price $100 GET YOURS NOW
About this event
@CARNIVALLYFE
PRESENTS
THE ULTIMATE MIAMI CARNIVAL COLOMBUS EVENT GUIDE 2021
 7+ EVENTS - 1 WEEKEND - 1 GREAT PRICE
THURSDAY OCT 7TH - TUESDAY OCT 12TH
 EVENT RUNDOWN - 
THURSDAY NIGHT $2 FETE @ VTBA  
FRIDAY DAY TIME  FOAM FETE @VTBA
FRIDAY NIGHT A.S.K.E  AFRO SOCA KOMPA EXPERIENCE
SATURDAY POOL PARTY DAY TIME  @ VTBA
SATURDAY NIGHT FLAG FEST REP YA CULTURE @ VTBA
SUNDAY NIGHT INDULGE BEACH WEAR COOLER FETE @ VTBA
MONDAY NIGHT WHINE DOWN  @ VTBA
TUESDAY CHILL @VTBA
SPECIAL BONUS EVENT ON TUESDAY TO THOSE WITH WRISTBANDS !!!!!!!!!!!!!!
 FOR MORE INFORMATION , TICKETS , VIP PACKAGES OR WEEKEND PASSES REDEMPTION CENTER TEXT 646-750-9498 , FOLLOW @CARNIVALLYFE ON INSTAGRAM OR EMAIL CARNIVALLYFE@GMAIL.COM
DOWNLOAD OUR APP IN APP STORE
JUST SEARCH CARNIVAL LYFE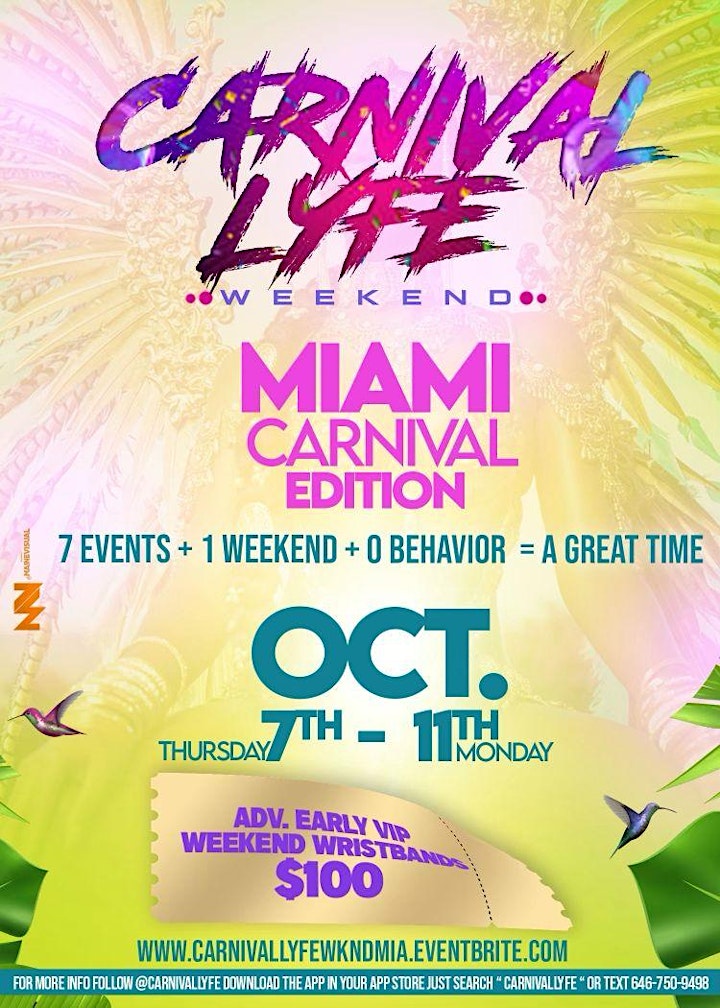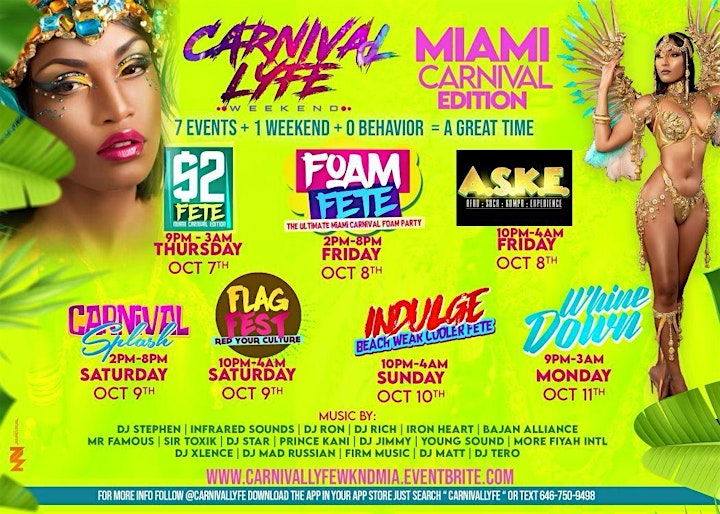 Organizer of CARNIVALLYFE WEEKEND 7+ EVENTS MIAMI CARNIVAL WEEKEND 2021
Bringing to you a series of carnival and/or caribbean infused events !!!!