Description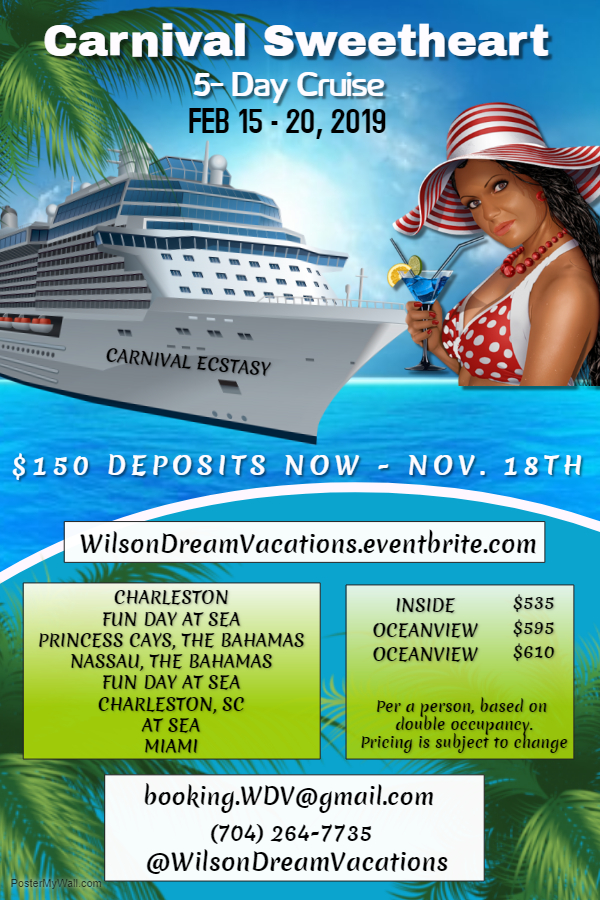 Deposit Due: November 18, 2018 by 5pm.
Full Payment Due: December 12, 2018 by 5pm.
Pricing includes cruise taxes, fees, and port expenses.
How To Contact Us
You may email us at booking.WDV@gmail.com or give us a call at (704) 264-7735 for questions, concerns, or if you would like to set up a payment plan.
Please be sure to leave a voicemail with your name, number, and reason for calling so we can return your phone call as soon as possible.
Cabins
Inside 535.00
Oceanview 595.00
Oceanview 610.00
*Other cabin sizes can be requested
Itinerary
2/15 Depart from Charleston, SC at 4pm

2/16 Fun Day At Sea

2/17 Princess Cays, The Bahamas from 8am-5pm

2/18 Nassau, The Bahamas from 8am-5pm

2/19 Fun Day At Sea

2/20

Arrive in Charleston, SC at 8am
The Ship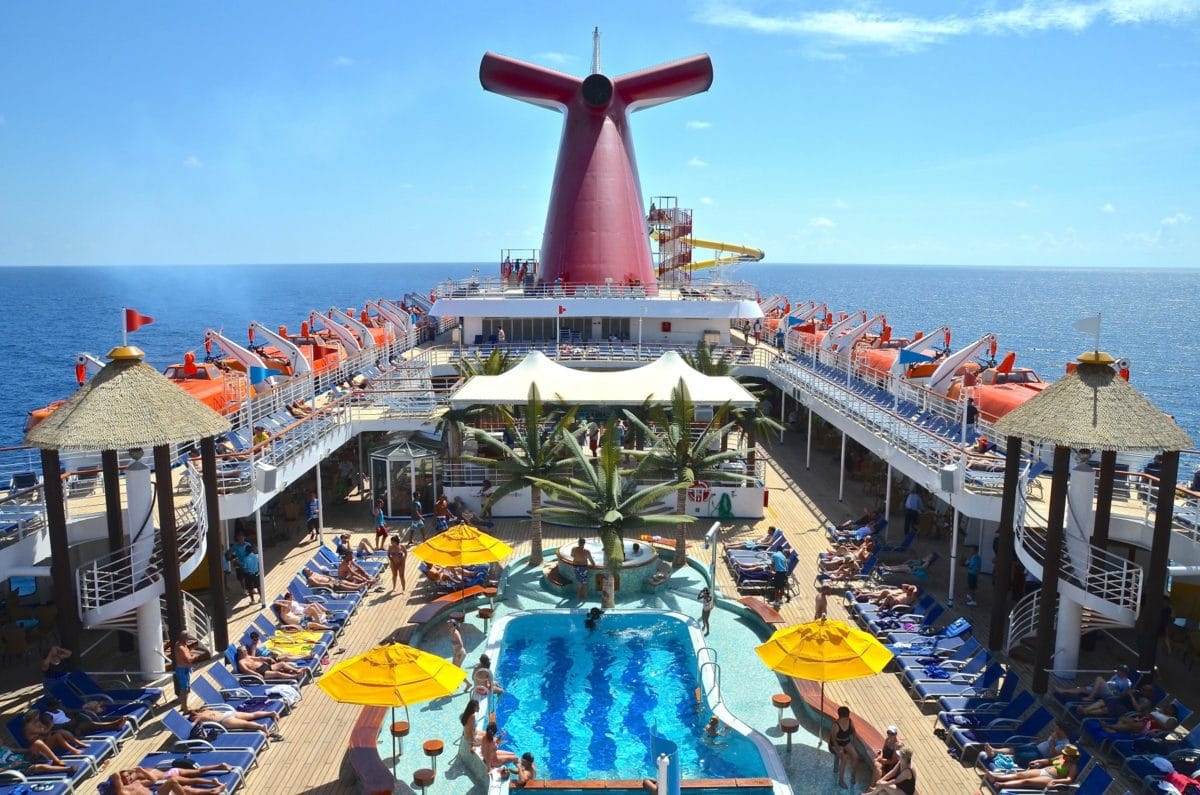 CHARLESTON CRUISE SHIP TERMINAL DIRECTIONS AND PARKING
Port of Charleston
Union Pier Terminal
32 Washington Street
Charleston, South Carolina 29401
The Cruise Ship Passenger Terminal is located in downtown Charleston in the heart of the historic district. It is easily reached via several major routes into the City. The major routes into Charleston are via Interstate 26, Highway 17-South, Highway 17-North and I-526.
Permanent highway signs are posted along the travel route to help direct passengers to Union Pier and the cruise ship facilities. Some signs are the standard green highway signs posted along major routes and exit ramps. Others are smaller sized brown and white signs with the international cruise ship symbol and arrows showing the direction to travel in the downtown area to the cruise terminal.
Gate #2 – Intersection of Concord and Laurens Streets -Charleston, South Carolina – is the general entry point for passengers in personal vehicles. This is the entry gate for individuals driving their own vehicles and planning to leave them parked at the Port or passengers being dropped off by family or friends.

Union Pier Main Gate – 32 Washington Street – is the designated entry point for for taxis, hotel limo/vans, airport services and charter bus groups.

Parking Information
Rates are subject to change
$20.00

USD

per day - for standard vehicles up to 20 feet in length
$50.00

USD

per day – for oversized vehicles over 20 feet in length (RV's, Campers and busses)
The Port of Charleston features both covered and non-covered parking in a safe and secure location. A complimentary shuttle bus is provided between the vehicle parking area and the cruise terminal on both departure and return dates of the cruise. Shuttles accessible for special needs and wheelchair assistance are also available. Please note, guests have the option to walk as well.
Vehicle parking is available on port property, in a controlled access area available to cruise passengers – not the general public
The site is secured and patrolled by the Port Police during the cruise
Pre-pay parking is a simple and convenient way to take care of your parking arrangements in advance. To pre-pay your parking now, simply follow this link http://www.scspa.com/cruise-parking/ or click here.
If you prefer to pay for your parking on the day of your cruise, full payment is due upon entering the parking area. The following forms of payment are accepted: Credit Card, Debit Card, Traveler's Check, Personal Check or Money Order (made payable to S.C. State Ports Authority). Checks written on non-U.S banks and financial institutions are not accepted
A color-coded claim ticket and permit is given to the driver upon entering the parking area. The larger permit should be displayed in the front window of the vehicle. The smaller claim ticket should be kept by the driver. It will help identify the parking area on the return date
Advance reservations are not required
Parking for handicap accessible vehicles with valid permits, license plates and placards
For more information, visit www.port-of-charleston.com and click on 'Cruises'.
Arrival Tips
Uniformed Port Police Officers will be along the travel route to the vehicle parking areas and the Cruise Ship Terminal. They will direct you to the appropriate lane, based on the situation.
Keep your boarding pass, photo ID and proof of citizenship with you and easily accessible as it will be needed for entry to all support areas, shuttles buses and for check-in at the cruise terminal.
Vehicles and luggage will be accepted at the Union Pier Terminal starting at 11:30am. All passengers and luggage must go to the Union Pier luggage collection site before check-in.
Complimentary shuttle service is provided for all passengers between the port parking areas and the Cruise Ship Terminal.
Don't Forget!
Like our Facebook Page, follow us on Instagram and click the follow button at the bottom of this Eventbrite page to stay up to date of other trips and crusies we post!
@WilsonDreamVacations
Our flyer was designed by Wilson Graphics CLT. They have very reasonable prices and they can be reached at WilsonGraphicsCLT@gmail.com or on Facebook Messenger at http://m.me/WilsonGraphicsCLT
Their facebook is facebook.com/WilsonGraphicsCLT check them out and like their page.