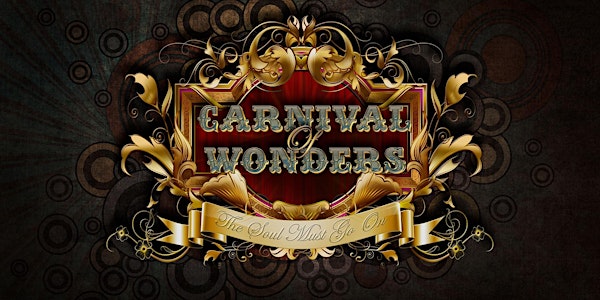 Carnival of Wonders: The Movie
Location
Long Branch Saloon & Farms
321 Verde Road
Half Moon Bay, CA 94019
Carnival of Wonders- The Movie - Premiere and Screening
About this event
OUR LIVE FILM RELEASE AND EVENT! On September 6th 2019 Carnival of Wonders The Movie will be released during a very special and once in a lifetime evening! Guests will be treated to an otherworldly evening as they arrive at Long Branch, Half Moon Bay. The town will be alive with characters that will entertain, amaze and thrill the guests. Dancers and specialty acts from Las Vegas' Cirque shows will be featured in an incredible production that will have you awed and amazed. Our special guest performer, International DJ "TONE RANGER" will play original western inspired trance and dance beats with an unbelievable video mapping and light show.
ENJOY a full western BBQ, gamble in the gaming hall, drink in the saloon, play games in the city streets, HELP raise funds for our 3 local charities with a silent auction, interact with guests & movie stars alike and dance the night away to Tone Ranger! The night will be complete with the screening of the short film.
Interested in reserving a table to sit with co- workers, friends, or family?
Carnival of Wonders: The Movie offers table reservations to make your evening all the more memorable! There are a limited number of reservable tables for 8 or 10 people available, with the following pricing:
Tables of 8 are $1200 with no alcohol or $1400 with 2 bottles of wine.
Tables of 10 are $1500 with no alcohol or $1800 with 3 bottles of wine.
If you have already purchased tickets, and are back for more, we will happily apply your current ticket purchase to the table costs. For instance, if you already purchased two tickets and now want a table of 8, your remaining fee (with no alcohol) would be $900.
Contact us at cow2themovie@gmail.com if you would like to reserve a table or two for your group.
Please note that there will be seating available for everyone whether or not you choose to reserve a table in advance.
Reach out to cow2themovie@gmail.com with any questions. We look forward to seeing you on September 6th!
Your Grateful Team from Carnival of Wonders: The Movie