Description
The Ultimate Jamaica Carnival Package!
Visit; www.CarnivalJumpers.com
April 15th - 20th 2020
Package Includes:
Standard Accommodation: 4-5 Nights
Luxury Accommodations in a private home with pool in the heart of Kingston Jamaica.
All-Inclusive Accommodation: 4-5 Nights
*Early Bird Deposit just $250 till August 1st, 2019 Thereafter, the deposit will be $500
Mas (Dressing up in costume): Carnival Costume with All Inclusive (Food & Drinks) Mas band
Driver - Group Drop-offs/pick-ups from included events
Events: 4 Fetes/Parties per person
Price starting from $925 per person for Party Package only (Accommodations not included)
Price Starting from $2250 per person based on Double Occupancy with no costume included
Price Starting from $2850 per person for VIP package, Double Occupancy with Backline Costume Included
For single rooms, there is an additional single room supplement fee. Starting from $600 usd (To lock down your reservation and rate we would need a deposit of $600.00 USD per person)
*Packages are on first to come first serve basis.
*All payments are non-refundable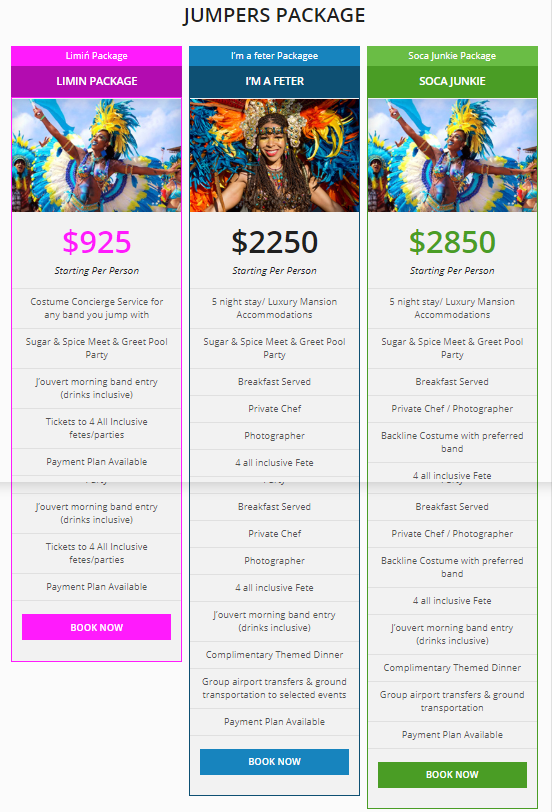 What's not included: Passport and other travel documents mandatory to travel to Jamaica
Payment Plan: You will have the option of a monthly payment plan. Payments will be accepted by PayPal.
PayPal: info@carnivaljumpers.com Once you make your deposit you will be sent a PayPal invoice for your future payments.
Background About The CarnivalJumpers
Carnival Jumpers is the Premier Destination Management Company dedicated to experiencing Carnivals around the world. We are here to serve those who are driven to experience and participate in vibrant cultures around the world.
Carnival Jumpers provides access for busy professionals to several carnivals annually in select paradise locations. Many of these Carnivals can draw over 300 attendees per destination who travel from all over the globe to enjoy the festivities.
Be prepared to experience profound paradigm shifts, make lifelong connections, and most importantly, enjoy unique opportunities to have incredible adventures. At each destination, Carnival Jumpers have the opportunity to come together for exclusive, social events that will continue to impact you long after the journey back home.
Things to know:
We were listed by ESSENCE magazine, Huffington Post and Cassia as one of the BEST concierge services to use for your Carnival Travel needs. Please see the articles below.
Articles Written About Carnival Jumpers.
https://cassiuslife.com/14906/girls-trip-vacations/
https://www.sacheaaroundtheworld.com/blog/hello-im-sachea-im-a-carnival-survivor
http://www.huffingtonpost.com/entry/5-reasons-to-try-barbados-cropover-instead-of-trinidad_us_599edb14e4b0d0ef9f1c11ea
https://www.essence.com/lifestyle/travel/7-soca-filled-events-that-should-be-on-your-radar-in-2019/
https://www.essence.com/lifestyle/travel/first-timers-guide-to-jamaica-carnival/?fbclid=IwAR1KfmbBqLuNcs2Zn01z_yYIc9j3plzkouop9_lMiKH6uS8TAXlSofrpjhk
Jamaica Carnival is held in Kingston, Jamaica. Please book your round-trip flights to Kingston, Jamaica. Airport Code: Norman Manley International Airport (KIN).
Visit www.carnivaljumpers.com should you have any further questions.