Description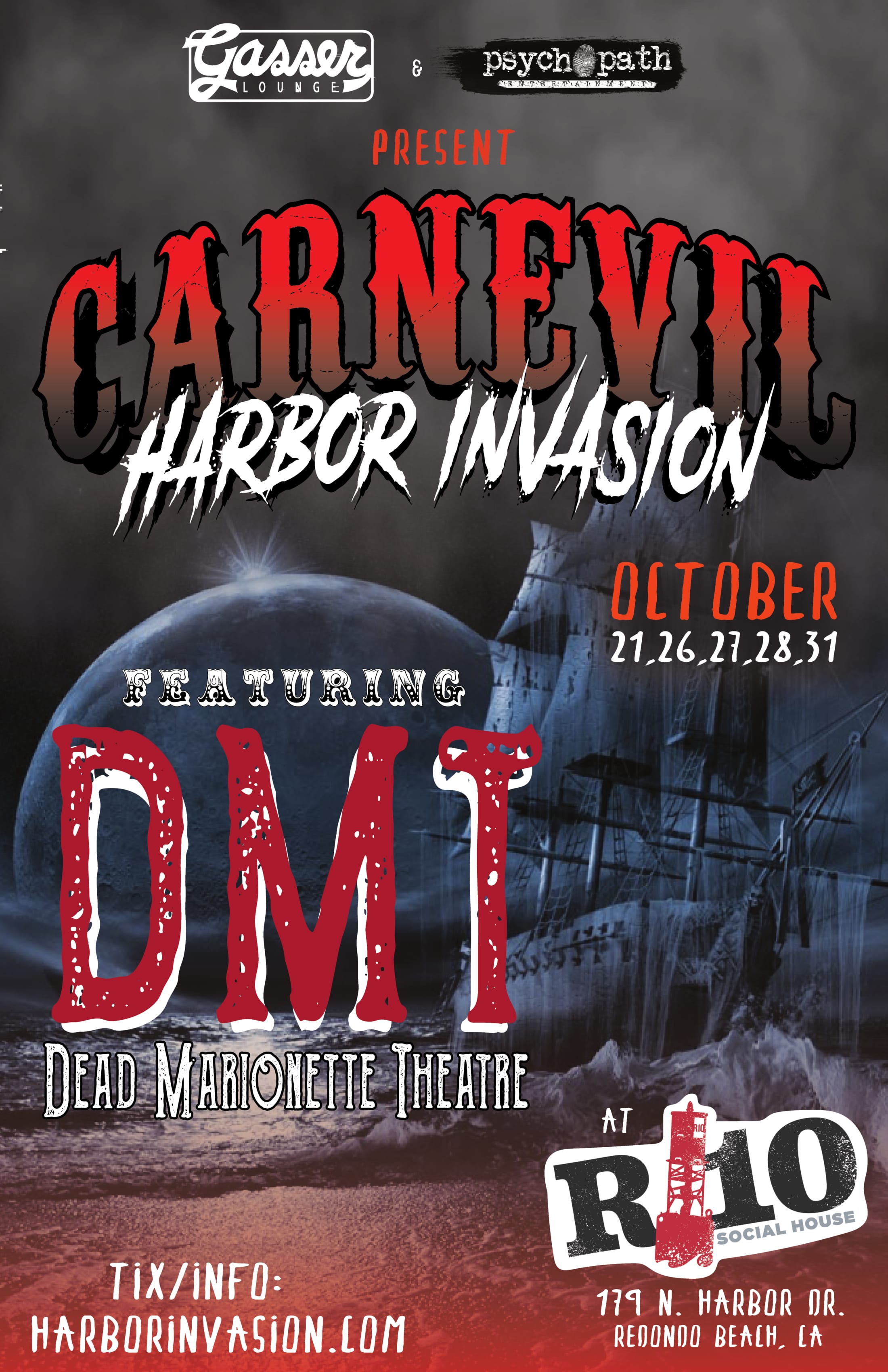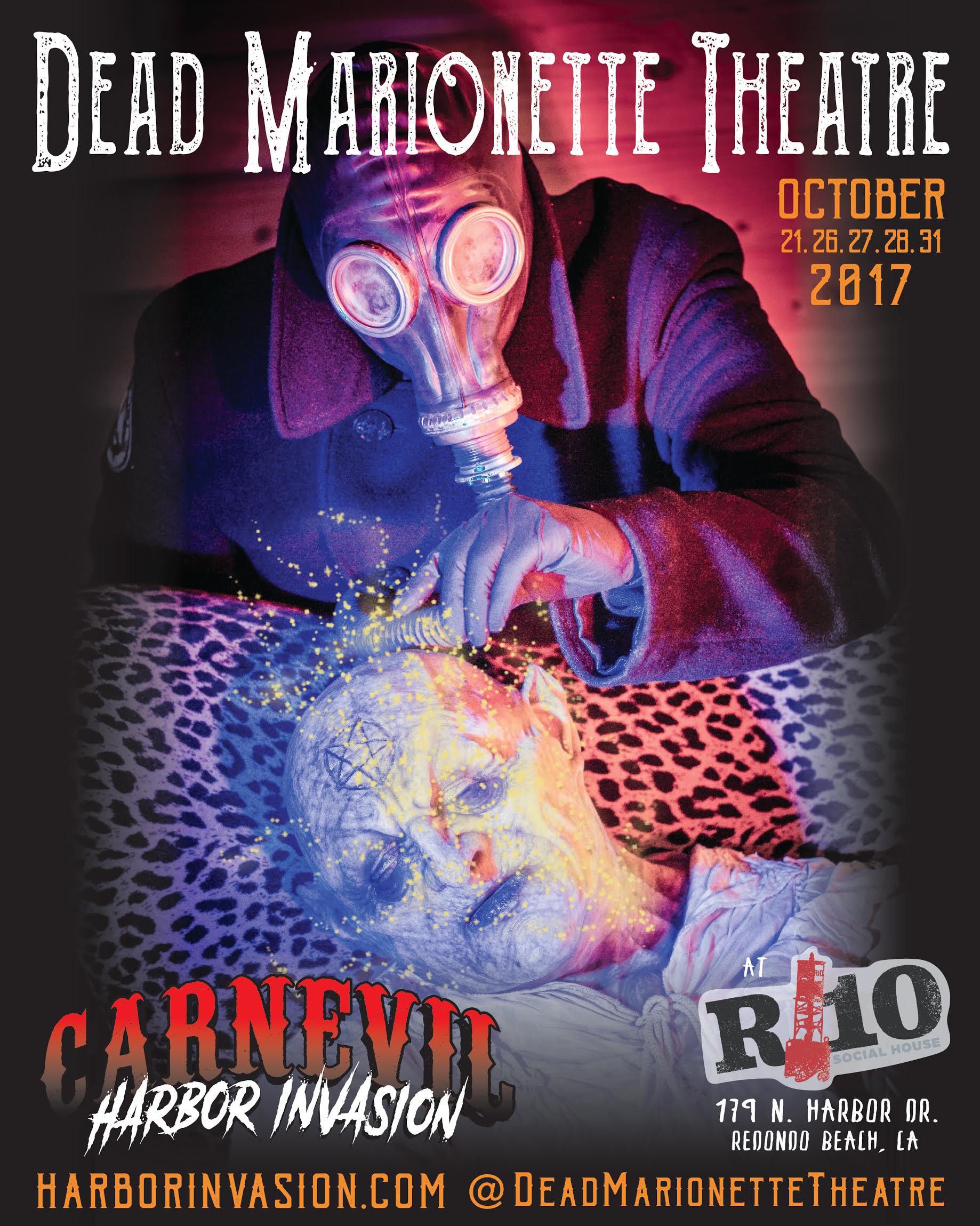 From the legendary degenerates behind almost a DECADE of INSANE parties across Southern and Central California comes the next incarnation of South Bay's BIGGEST and MOST IMMERSIVE Halloween Experience- CARNEVIL Harbor Invasion! Brace yourself for five MIND-BLOWING nights of shock, horror, and indulgence led by the demon puppets of Dead Marionette Theatre! NO ONE DOES HALLOWEEN BETTER!!
Doors at 7pm
Strictly 21+
ALL NIGHT Drink Specials!
DJ
Feature Show Begins at 11pm
Post-show Dance Party!! (...in case you haven't partied yourself to death by the end of DMT.)
Costumes Strongly Encouraged!
***BE ADVISED***
Dead Marionette Theatre is a 360 degree, fully-immersive experience with heavy and frequent use of strobe lights, lasers, pyrotechnics, sub-sonic sound, climate-altering effects, projectiles, and graphic and potentially offensive imagery. Performers, props, and special effects CAN and DO come in direct contact with the audience. If you disturb easily or have sensitivity to any of the elements listed above, please consider carefully before attending.
Basically, if you come to the show, you're probably going to get hit with some shit so don't be a baby.
*Recommended attire: hard hat, poncho, steel-toed boots, sunglasses, ear plugs, change of underpants, and bible/holy water... or just dress as a Cool Contruction Worker Priest and that will cover everything.
Seriously, though... don't come dressed in your Sunday Best unless you've got a really good dry cleaner.

You have NEVER experienced anything like this. Be prepared for sensory overload.
FA-Qs
Are there ID or minimum age requirements to enter the event?
Strictly 21 and up. We already told you that. It's like you don't even listen.
What are my transportation/parking options for getting to and from the event?
Tons of parking available in adjacent lot. Typically you can get out of there for less than $5 with a validation, but since we don't run the lot, we don't know whether prices will change on event nights. Uber, Lyft, Taxi, bike, skateboard, etc are strongly recommended as this is a DRINKING EVENT and your ass is not going to be in ANY shape to drive by the time DMT is done.
What can I bring into the event?
Costumes strongly encouraged. No metal weapons, please. All backpacks, purses, clutches, briefcases, nap sacks, fanny packs, and man buns subject to inspection.
How can I contact the organizer with any questions?
We prefer notarized, handwritten letters sealed with a heart sticker and sprayed with perfume or voice messages left on our parents' answering machine that hasn't been checked since 1998, but we will also accept emails as long as they have a clever subject line and are addressed to info@gasserlounge.com.