Description
ALL OF THE PRE-REGISTRATION-INCENTIVE TOTE BAGS ARE ACCOUNTED FOR, BUT ALL ARE WELCOME TO ATTEND WITHOUT REGISTERING. THERE IS PLENTY OF ROOM FOR EVERYONE.
Come explore the cosmos at the Carnegie Observatories! Join us for an afternoon of crafts, activities, and discovery.
Meet professional astronomers and learn about how they study the universe.
Visit the machine shop to see how we make instruments for our telescopes.
Bring your questions about the stars, planets, quasars, black holes, galaxies, and more to our "Ask the Astronomer" table.
Look at the Sun through a solar telescope.
Tour our beautiful Hale Library and see historic astronomical images taken on glass plates.
Celebrate the 50th anniversary of Carnegie's Las Campanas Observatory in Chile.
Get the latest update on the Giant Magellan Telescope—one of the most-powerful next-generation telescopes.
Enjoy FREE ice cream, drinks, and music in the beautiful outdoor courtyard.
Make your own constellation and other fun children's astro activities.
Registration is not required, but those who register in advance will be eligible for a Carnegie Observatories tote bag (as modeled by our Outreach Coordinator, Jeff Rich):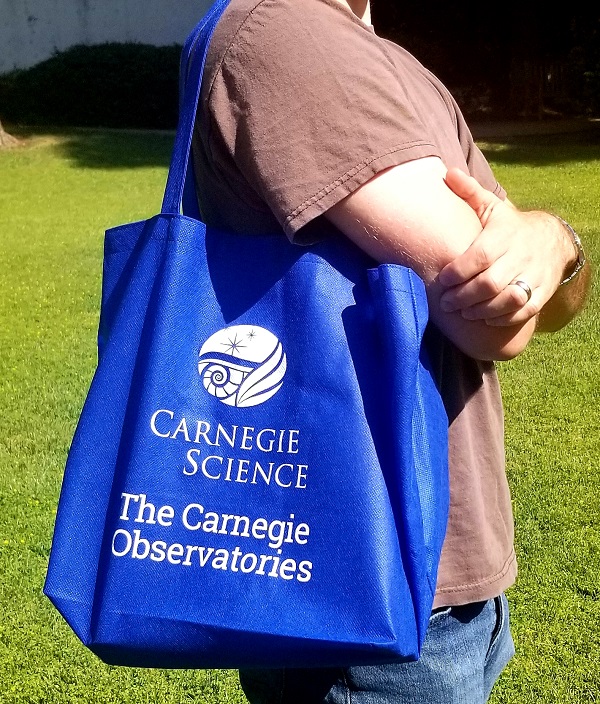 Organizer of Carnegie Observatories Open House

Carnegie Observatories scientists have transformed humankind's understanding of the Cosmos, from the revelation of the Universe's expansion to the discovery of dark energy—and the groundbreaking work continues today. Carnegie scientists are still at the vanguard of astronomical research at the world-famous Las Campanas Observatory in Chile, home of the twin 6.5m Magellan telescopes and future site of the 24m Giant Magellan Telescope.