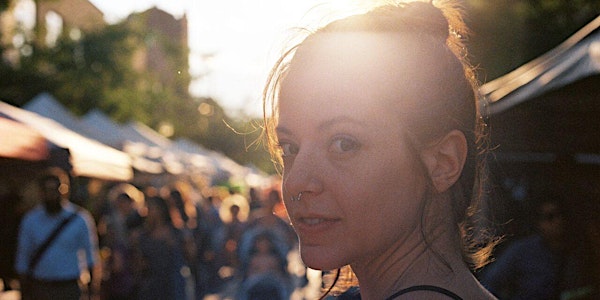 Carnegie Hill Concerts Presents: Bethany Younge and CHC Chamber Players
Carnegie Hill Concerts Presents Bethany Younge's "Flesh" in collaboration with CHC Chamber Players
By Carnegie Hill Concerts
Date and time
Tuesday, May 30 · 7:30 - 9pm EDT
Location
New York Manhattan Church of the Advent Hope Seventh-day Adventist Church (SDA) 111 East 87th Street New York, NY 10128
About this event
1 hour 30 minutes

Mobile eTicket
Carnegie Hill Concerts presents: Bethany Younge and CHC Chamber Players
Carnegie Hill Concerts presents: Bethany Younge's "Flesh"
–
Jessie Cox, Musical Body
Charlotte Mundy, Musical Body
Sugar Vendil, Musical Body
Bethany Younge, Soprano, Musical Body, Electronics
Pauline Kim Harris, Violin
–
Flesh is a culmination of some of Younge's most recent artistic adventures involving the expressive limits of the human body as well as the "fleshing," or animation, of non-human bodies (i.e. instruments and objects). Voices, extreme physical gestures, percussive violin-playing, and electronics contribute to a musical landscape that is at once futuristic and atavistic. Integral to each composition is Younge's highly personalized performance practice.
–
Program:
//Atavist I. for three musical bodies + electronics
(Jessie, Sugar and Bethany)
//Atavist II. for four musical bodies + electronics
(Jessie, Sugar, Charlotte and Bethany)
Where Waste Piles for mezzo soprano and violin
(Pauline and Bethany)
Flesh for composer/performer + textile sensor costume
(Bethany)
Bethany Younge's acoustic and electronic music explores the manifold kinesthetic properties of musical performance. For her, the act of music-making cannot be divorced from the physical presence of the human instigator. Her works often incorporate instrumental deconstruction, exaggerated movement, motion tracking, sounding costumes, and/or other aesthetic devices to sonically heighten corporeal expressivity. 
Younge is currently pursuing her DMA in Music Composition at Columbia University in New York. She has received a Master's degree in Music Composition from the Royal Conservatory of The Hague, The Netherlands and a Bachelor's degree in Music Composition from the Oberlin Conservatory of Music. She has studied composition closely with George Lewis, Zosha Di Castri, Richard Barrett, Martijn Padding, Yannis Kyriakides, Peter Adriaansz, Lewis Nielson, and Seung-Ah Oh.
Her works have been featured in the 2020 National Sawdust New Works Commission, the Long Beach Opera Songbook, the International Summer Course for New Music Darmstadt, Resonant Bodies Festival, Gaudeamus Muziekweek, The 16th International Young Composers Meeting, and many other festivals. She has worked with ensembles including JACK Quartet, TAK Ensemble, ASKO|Schönberg Ensemble, TILT Brass, KLANG, Ereprijs Orkestra, Fonema Consort, AndPlay, Chartreuse, Gyre Ensemble, Ekmeles Vocal Ensemble, Mocrep, and others throughout Europe and the USA. She has been awarded the Stipend Prize at the International Summer Course for New Music Darmstadt, the Kanter/Mivos Prize, and the Barcelona Festival Mixtur Commission Award. Most recently she has been nominated for the 2022 Gaudeamus Award. Younge's work has been mentioned in both The New York Times, The Chicago Reader, and has been listed in The New Yorker.
Sugar Vendil is a composer, pianist, and interdisciplinary artist based in Lenapehoking, known as Brooklyn. She started her artistic life as a classical pianist, and after spending nearly a decade searching for her own voice, her practice evolved into performances that integrate sound, movement, and unconventional approaches to the piano. She writes and performs her own solo music for piano and electronics and has a keyboard/synth duo, Vanity Project, with composer Trevor Gureckis. Vendil is a proud second generation Filipinx American. Vendil was awarded a 2021 MAP Fund grant and a 2022 National Performance Network (NPN) Creation Fund grant for her multimedia childhood memoir "Antonym: the opposite of nostalgia" with co-commissioners Living Arts Tulsa, High Concept Labs in Chicago, and National Sawdust. She is part of Emily Johnson/Catalyst's Being Future Being, which premiered at broadstage in Santa Monica, followed by a New York premiere at NYLA. Vendi was recently commissioned to compose music for "GATHER" at Lincoln Center by Amanda Phingbodhipakkiya, whose "I Still Believe in Our City" campaign reached millions of New Yorkers. Vendil's forthcoming album, "May We Know Our Own Strength," is coming out on 11/11/22 on Gold Bolus Recordings.
Violinist Pauline Kim Harris, aka PK or Pauline Kim, is a GRAMMY®-winning recording artist, composer. curator and producer. She has appeared throughout the US, Canada, Europe, Asia and Australia as soloist, collaborator and music director. Known for her work with classical avant-punk violin duo String Noise, she has also toured extensively with Orpheus Chamber Orchestra and continues to collaborate with leading new music ensembles in New York City.
Active in the experimental music scene, Pauline's work extends into interdisciplinary worlds, crossing boundaries and integrating visual art, electronics, media, film and dance to music. She has premiered and recorded works by Alvin Lucier, Christian Wolff, John Zorn, Philip Glass, Tyondai Braxton, Catherine Lamb, Steve Reich, George Lewis, David Lang, Du Yun, and more.
Pauline's debut album, Heroine — a reimagining of the Bach Chaconne and Ockeghem's Deo Gratias was released in 2019 on Sono Luminus with worldwide distribution. Her second album, Wild at Heart, was released on Sono Luminus in 2021. Pauline has also recorded for Decca, Tzadik, Northern Spy, Nonesuch, New Focus Recordings, Infrequent Seams, New World Records, Chaikin Records, Unseen Worlds, and Cold Blue Music, and has been heard on PBS, BBC, NPR, WQXR, WNYC, WKCR and WFMU.
Pauline was the first Music Director for the Bill T. Jones/ Arnie Zane Dance Company and has been the featured solo artist for choreographers David Parker of The Bang Group, Pam Tanowitz and John Heginbotham. Most recently, she was an associate artist at the Atlantic Center for the Arts, had her debut residency at the Stone - New School, resident artist fellow at The Mabel Residency, and is the recipient of the EtM Con Edison Composer Residencies at Bloomingdale School of Music. She serves on the board and is co-curator of Carnegie Hill Concerts.
Charlotte Mundy specializes in music that is new, daring and sublime. She has been called a "daredevil with an unbreakable spine" (SF Classical Voice), and her performances have been described as "an oasis of radiant beauty" (NYTimes) and "marvellously appealing" (The Log).  Mundy was awarded the Jan DeGaetani prize for contemporary song performance from the 2019 Joy in Singing Competition, and has performed with the Resonant Bodies Festival, BAM New Wave Festival and New York Festival of Song. She has appeared as a soloist at the 92nd Street Y, Metropolitan Museum, Park Avenue Armory and the Library of Congress and given critically acclaimed renditions of Schoenberg's Pierrot Lunaire, Boulez's Le Marteau sans Maître, Feldman's Three Voices and Messiaen's Poémes Pour Mí.
Mundy "slays the thorniest material like it's nothing" (WQXR) with TAK ensemble at venues including Issue Project Room, Miller Theater and the Look and Listen festival; she sings stratospheric microtonal lines with Ekmeles vocal ensemble at venues including The Kitchen and Philadelphia's Rotunda.
Mundy was a host of WQXR's new music station, Q2music, from 2012-2015 and currently co-hosts, co-edits and co-produces the TAK Editions Podcast. Her compositions have been featured on the Resonant Bodies Festival, Chance and Circumstance Festival, Periapsis Music and Dance festival, Higher Ground festival and Broad Statements. She has lectured on writing for voice and participated in readings, workshops and performances of student compositions at institutions including Columbia University, Princeton, Yale, Stanford, Cornell, McGill, and Juilliard. Mundy studied at the Contemporary Performance Program at the Manhattan School of Music, and the Faculty of Music at the University of Toronto, and is currently a doctoral fellow in Music Performance at the CUNY Graduate Center. She was born and raised in Toronto, Canada and resides in Brooklyn.
One of the world's most brazenly experimental composers, Swiss artist Jessie Cox makes music about the universe and our future in it. Through avant-garde classical, experimental jazz, and sound art, he has devised his own strand of musical science fiction, one that asks where we go next. Cox's music goes forward. When he describes it, he compares it to time travel and space exploration, likening the role of a composer to that of a rocket ship traversing undiscovered galaxies. He is influenced by a vast array of artists who have used their music to imagine futures, and takes Afrofuturism as a core inspiration, asking questions about existence, and the ways we make spaces habitable. Known for its disquieting tone and unexpected structural changes, his music steps into the unknown, and has been referred to by the New Yorker as an example of "dynamic pointillism," a nebulous and ever-expanding sound world that includes "breathy instrumental noises, mournfully wailing glissandi, and climactic stampedes of frantic figuration."