Description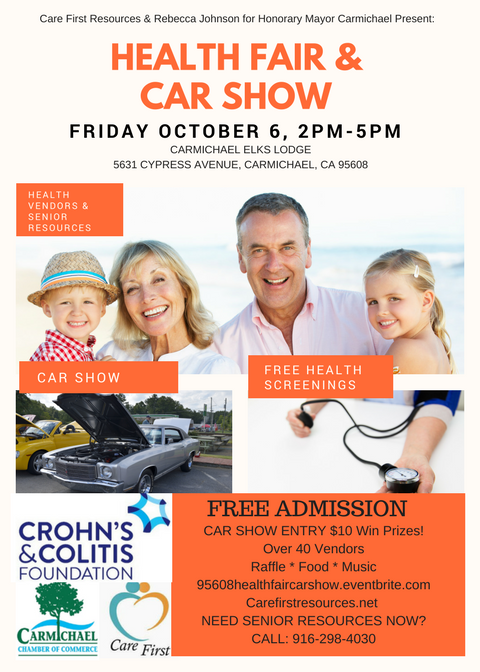 Rebecca Johnson for Honorary Mayor of Carmichael Presents the 2017 Get Your Guts in Gear Health and Wellness Fair and Car Show!
This is a FREE Community Event featuring local health and wellness organizations, senior care agencies and facilities and business vendors.
Stop by from 2pm-5pm at the Carmichael Elks Lodge and enjoy vendors, music, raffle prizes and cars!
Proceeds from vendor fees and car show will go to the Carmichael Chamber of Commerce and the Crohn's and Colitis Foundation.
Presented by Rebecca Johnson, Care First Resources
CONTACT: Rebecca Johnson 916-298-4030
Rebecca Johnson is running for Honorary Mayor of Carmichael 2018. She is co-owner of Care First Resources, and is a Geriatric Care Manager and Patient Advocate as well. Care First Resources Specializes in helping senior's and their family connect to aging resources, including but not limited to: assisted living, housing, memory care, home health, in home care, adult day care, and hospice. We also provide Geriatric Care management and patient advocacy services in Northern California. www.CareFirstResources.net