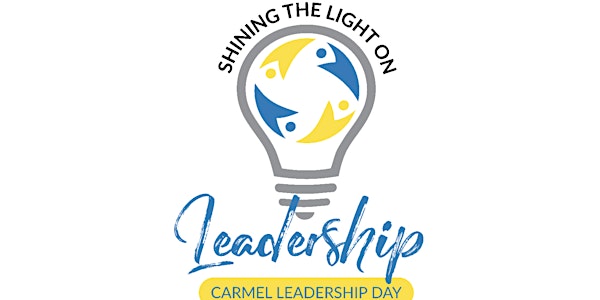 Carmel Leadership Day
Carmel Leadership Day brings Local Business and Community leaders together with high school students for a leadership training.
When and where
Location
1 Civic Square 1 Civic Square Carmel, IN 46032
About this event
Agenda
Friday October 1st
7:30 a.m. Check-in
8:00 a.m. Welcome, Dr. Rick Markoff
8:02 a.m. Event Sponsor: David Norris, The Hylant Group
8:05 a.m. Keynote Speaker: Sue Ellspermann, Ph.D. Former Lieutenant Governor, Indiana, and President, Ivy Tech Community College
Building Indiana's Future Leaders: Their Educational, Business, Civic, and Community Responsibilities
8:35 a.m. Ice Breaker: Derrin Slack and Tim Griffin
8:45 a.m. Panel Discussion One: Civics Focus
Moderator, Jeff Worrell, Carmel City Councilman. Panel: Carmel Fire Chief David Haboush; Hamilton County Commissioner Mark Heirbrant; Carmel-Clay Schools Board Member Louise Jackson; and Hamilton County
9:00 a.m.- Noon Carmel Leadership Day Information Center* **
9:20 a.m. Group Activity Led by Hamilton County Leadership Academy
9:55 a.m. Panel Discussion Two: Why Get Involved?
Moderator, Thaddeus Rex, iTeam CEO. Panel: Armando Lanuti, President, Creative Works, Inc.; Fritz Prine, President & CEO, Westfield Steel Inc.; Derrin Slack, Founder, ProAct Indy; Meredith Gradle, CEO & Founder, Iris Works; and Meg Gates Osborne, CEO MEG and Associates
10:30 a.m. Group Activity Two Led by Hamilton County Leadership Academy
11:15 a.m.- Lunch with a Leader: The Old Spaghetti Factory
12:30 p.m. How Has Covid Changed My Approach to Leadership?
12:45 p.m. Panel Discussion Three: A New Generation of Leaders.
Moderator, Jimmie McMillian, IMS Senior Corporate Counsel & Penske Entertainment Chief Diversity Officer. Panel: Dr. Shannon McCullough, Assistant Dean of Admissions and Student Affairs, Herron School of Art + Design, IUPUI; Kaitlyn Sintkowski, Pacers Sports & Entertainment Digital Marketing & Design Manager; Juan Paz, Director of Property Tax, Simon Property Group; and Matthew Markoff, California Hip-Hop Executive**
1:30 p.m. Group Activity Three Led by Hamilton County Leadership Academy**
2:15 p.m. Information Center Sponsor: Chris Sanson, Cox Residential Roofing
2:17 p.m. Closing Speaker: Aaron Cohen, M.D.,
Getting Serious about Leadership: Yes, It Is Brain Surgery
Friday, October 29, 2021
Monon Civic Project led by Carmel Fire Department, Rotary Club of Carmel, Hamilton County Leadership Academy, and Carmel High School Students
* Main Lobby and/or Second Floor Balcony 1 Civic Square
**Open to Carmel City Employees
Vision
The Carmel Leadership Day, hosted by the Carmel Rotary and in conjunction with the Carmel Fire Department, Carmel Parks and Recreation, Carmel-Clay Schools, and iTeam, provides a forum to engage with local leaders from both the private and public sector and grow your professional and personal leadership skills while having a positive impact on the next generation of leaders within our community.
Mission
To maximize the Carmel Rotary's impact by creating a visible and exciting program to enhance civic awareness and strengthen community leadership.
Overview
The Carmel Leadership day offers a dynamic lineup of keynote speakers and panelists, in addition to a valuable opportunity to connect with other area business leaders. Participants will inspire and connect with local high school students eager to learn how local companies have a positive impact on their communities through giving back and how they can become involved through community leadership.
Additional highlights include Lunch with a Leader, group activities allowing participants to meaningfully network in smaller more intimate groups. Opportunities abound in our information center area, as there will be time to leisurely browse area charities at their own booth, inquiring about the ones that hold your interest.
Lunch with a Leader
An intimate setting provides opportunity to have small-table discussions with a local leader during this designated lunch hour. Each table will host a limited number of seats for a more beneficial interaction with the leader, along with a table moderator. Each leader is someone with local ties to our community who has a heart for service. This is a valuable opportunity to connect with other professionals looking to extend their own fabric of connectivity and philanthropy.
Leadership in Action
Principles taught during the day will be demonstrated in a joint service project between the Carmel Rotary, the Carmel Fire Department and Carmel High School students on October 29.
Participants will come together for a civic project, performing community service along the Monon Trail.