Multiple Dates
Carlyle Vitality Initiative's Halloween Festivities!
Join us for a safe and fun Halloween at John Carlyle Square Park!
About this Event
Carlyle Neighborhood of Alexandria, VA - The Carlyle Vitality Initiative is hosting Halloween Festivities with trick or treating with the family at our Farmer's Market and with a Halloween Concert in the evening at John Carlyle Square Park on October 30th! Jesters to the Left will return as our featured band!
Cost: Free to the Public
Some vendors have items available for pre-ordering at https://woso.co/carlyle
What to Bring? Face Mask and your Social Distancing Ettiquette; Kids wear your costume to trick and treat with our vendors!
Heads-up! We will have a Pumpkin Carving Challenge! Bring your "already carved" pumpkin to enter into a contest for the best carved pumpkin!! You can also purchase your pumpkin from Lopez Farm on October 23rd at our Farmers' Market!
Prizes*:
1st Place: $100 voucher towards any pre-order purchase at the 2020 Carlyle Holiday Market
2nd Place: $50 voucher towards any pre-order purchase at the 2020 Carlyle Holiday Market
3rd Place: $25 voucher towards any pre-order purchase at the 2020 Carlyle Holiday Market
*Prize Vouchers will be distributed by the CVI Event Coordination Staff and will be redeemed from Friday, November 27th to Friday, December 4th on the Carlyle Holiday Market Pre-Order Platform only.
Sponsored by the Carlyle Vitality Initiative: City of Alexandria, The Carlyle Council, and the Alexandria Economic Development Partnership
Where: John Carlyle Square Park (300 John Carlyle Square Street, Alexandria, VA 22314)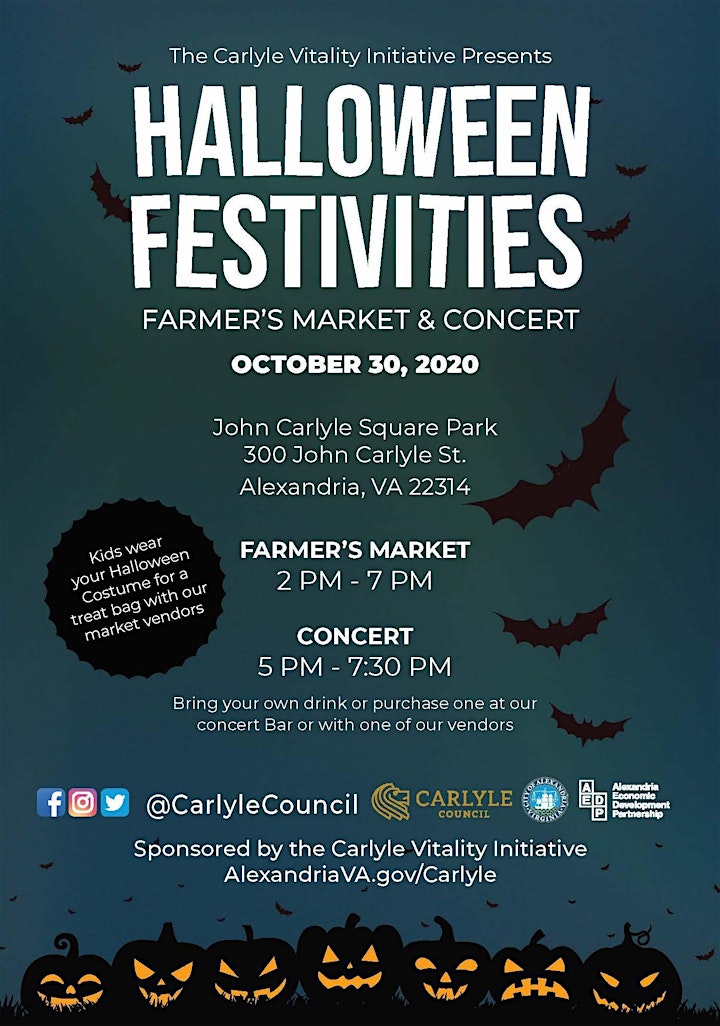 Carlyle Vitality Initiative Farmer's Market 2020
The CVI Farmer's Market mission is to support and promote local farmers and small businesses with direct in-person interaction to buy or pick up products (pre-orders) at the farmers market.
In running a safe farmers market and to adhere to the Centers for Disease Control and Protection (CDC) guidelines, vendors have received instructions, explanations, requirements on how to setup their vendor booth/stand, present their products, handle orders and payments.
We also have the following guidelines for all customers.
Schedule adjustments or guidelines may be made based on future notifications from the Governor of Virginia or the Alexandria's City Manager.
COVID-19 Customer/Patron Market Guidelines
DO
● Wear a face mask or covering (required)
● Maintain a 6 foot distance between yourself and others
● Limit the number of family members attending to maintain social distancing
DO NOT
● Consume food on site
● Pick up or touch products or produce at the farm stands
● Bring dogs or other animals to the market
● Make hand to hand or personal contact with vendors or other shoppers
PLEASE NOTE
• The City of Alexandria, Carlyle Vitality Initiative, and their respective event organizers/contractors (the "Event Parties") for the 2020 Farmer's Market cannot control or be responsible for the conduct of participating vendors or attendees of the Farmer's Market or their adherence to social distancing or Personal Protection Equipment (PPE) guidelines.
• COVID-19 remains a risk. It is up to each person to adhere to social distancing and PPE guidelines, and each person assumes the risk of contracting COVID-19 in any public venue.
• None of the Event Parties shall have any liability related to COVID-19 as a result of your attendance at the Farmer's Market.
• Your attendance shall constitute your assumption of risk, release, waiver, discharge, and covenant not to sue the Event Parties, with respect to any liability related to COVID-19.
We appreciate your understanding and adherence to the stated protocols.
Together, we can continue to support our local farmers and businesses while keeping
our community safe.