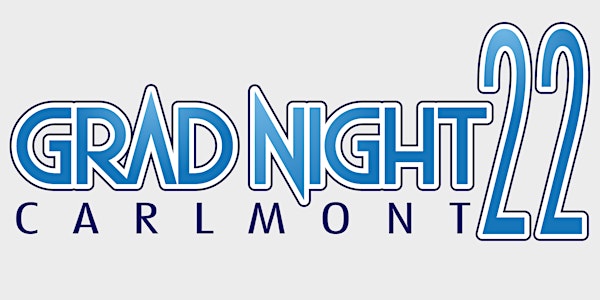 Carlmont High School Grad Night, Class of 2022
Carlmont Hight School Class of 2022 Grad Night
About this event
If you still want to go email chsgradnight2022@gmail.com ASAP.
ARRIVE TO CHECK IN AT 6:30PM. Get dropped off, carpool or park in the Senior Lot and MEET at the Scot's Gym on Friday, June 3rd. BRING YOUR STUDENT ID AND PROVIDE THE PRINTED TICKET WITH QR CODE OR DISPLAY THE QR CODE ON YOUR PHONE OR WE CAN LOOK YOU UP BY YOUR LAST NAME. WEAR LONG PANTS OR JEANS, AND BRING A JACKET. IT WILL BE COLD.
Carlmont Class of 2022 we have a fun, filled evening planned for you! The venue is a SURPRISE, it's TRADITION! Come enjoy food, entertainment, activities, games and make MEMORIES with your classmates. Transportation will be provided and is required for ALL attendees. ONLY CHS Class of 2022 may attend.
Tickets cover the cost of the entire event. No money is needed at the venue. Financial assistance is available contact chsgradnight2022@gmail.com.
Thank you!
Grad Night Committee 2022
chsgradnight2022@gmail.com
GRAD NIGHT RULES AND INFORMATION


The purpose of Grad Night is to provide a fun, memorable and SAFE celebration for all. Our strict policy of no cell phones and Apple watches (or similar) and other personal belongings is put in place to protect attendees. We do not want uninvited guests showing up, nor do we want any drugs or alcohol brought or delivered to the venue. We have hired a photographer to capture the evening events and we plan to share the link with all attendees in the days following Grad Night. Thank you for your cooperation and support for a FUN and SAFE celebration.
1. All 2022 Carlmont High School Graduates in good standing and eligible to walk in the 2022 graduation ceremony, including Middle College Graduates, are invited to attend the Grad Night 2022 celebration.
2. Graduates must have a photo ID and have purchased a ticket and completed the necessary waiver and permission forms in advance.
3. School Resource Officers ("SRO") from the Belmont Police Department and parent volunteers will be at the Scots Gym during check-in and at the venue.
4. Graduates will undergo a pat-down search prior to boarding the buses. Adult volunteers will be trained to conduct this search by the Carlmont SRO and will be supervised by the SRO.
5. Anyone arriving intoxicated, under the influence of drugs or acting in a disorderly manner will be referred to the SRO and will not be allowed to attend the event.
6. At check in, graduates will place ALL their personal items in individual, sealed bags upon check-in, including car keys and phones. These items will be returned when returning from the venue. DO NOT BRING VALUABLES. You can ONLY have your student ID with you.
7. The following items are NOT allowed: cell phones, Apple watches (or similar), cameras, pagers, any device with the ability to communicate, cameras, yearbooks, purses, backpacks, personal hygiene items, makeup, lip balm, food, chewing gum, mints or water bottles.
8. All medications must be checked-in to be held by the nurse during the event, with the exception of epi-pens and inhalers. The nurse will have personal hygiene items available at the venue.
9. Wear long pants or jeans and bring a jacket. Attire is informal and within school dress code. The venue will have indoor and a lot of outdoor activities. Graduates are encouraged to DRESS IN LAYERS, as it can get very cool this late at night.
10. Any serious infraction of the Grad Night rules will be reported to the parent/guardian by telephone and may result in removal from the event. If the parent/guardian cannot be reached, the graduate in question will be considered to be in custody of the security and/or police.
11. Graduates are expected to remain at the venue and travel as a group until returning to Carlmont High School at approximately 1:30 a.m.
All Ticket Sales are FINAL. No Refunds.