About this Event
Carl Zimmer
In conversation with Sean Carroll,
Physics Professor, Caltech
ALOUD on WORDS @ Central Library
Quantum mechanics is the most important idea in physics, and physicists themselves readily admit that they don't understand it. Genetics is another commonly misconceived area of science with the rise of new biomedical technologies and the popularity of at home DNA testing kits. Fortunately for ALOUD audiences, we welcome two of the most celebrated science writers to help make sense of how we live in the world—through space and time, and what we pass along from generation to generation. Carl Zimmer, is celebrated New York Times columnist and science writer, whose most recent book, She Has Her Mother's Laugh: The Powers, Perversions, and Potential of Heredity, weaves historical and current scientific research to present a new definition of what heredity is and how it is much bigger than genes we inherit from our ancestors. Joining Zimmer is Sean Carroll, a theoretical physicist at the California Institute of Technology, host of the Mindscape podcast, and bestselling author of The Big Picture, shares from his new book, Something Deeply Hidden: Quantum Worlds and the Emergence of Spacetime, where he demystifies the paradoxes of quantum mechanics. This illuminating wide-reaching conversation will take us from the single cells that comprise our own bodies to the wonders of the cosmos.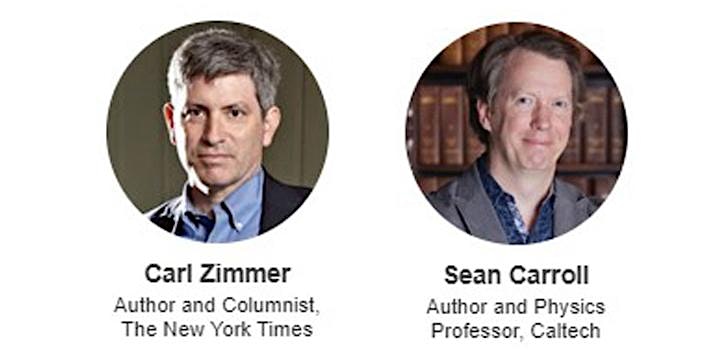 FAQs
About ALOUD
ALOUD is the Library Foundation of Los Angeles' series of bold, powerful programs and has been a key player in fostering the literary and cultural community of Los Angeles. ALOUD programs are Member-supported. Join the Library Foundation of Los Angeles for first access and discounts on ticketed events here.
Where should I park?
We recommend taking public transportation. Parking for the Central Library is at the Westlawn Garage at 524 S. Flower Street. Parking validation is available at the library's Information Desk (first floor); patrons can obtain validation upon presenting a valid library card. Validations are valid until 9 PM, which afterwards there is an $8 charge. For more information, visit the Library's website.
How can I contact the organizer with any questions?
Contact the Public Programs office at programs@lfla.org or by calling 213.292.6254.
What if a program is full?
You are welcome to come as a standby guest. Standby numbers are distributed one hour before the program on a first-come, first served basis. Admission is subject to availability.
Reservation policy for Free Programs
As this program is free of charge, it is our policy to overbook. In the case of a FULL program your free reservation may not guarantee admission. We recommend arriving early. Unclaimed reservations will be released to standby patrons at the start of each program.