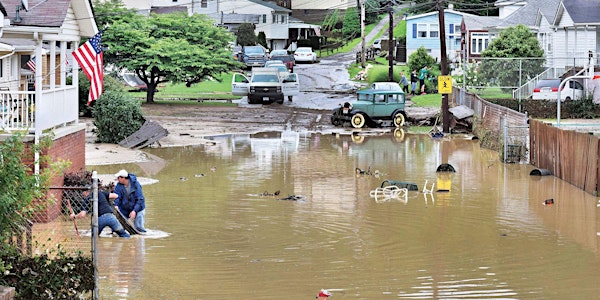 Caring for Each Other in Times of Extreme Weather
When and where
Location
Friends Center 1501 Cherry Street Rufus Jones Room Philadelphia, PA 19102
Description
The Eco-Justice Collaborative of Philadelphia Yearly Meeting invites you to this program for people of all faiths.
Extreme weather puts our lives, Meeting property, schools and homes at risk. How can we protect our home and school communities and serve our neighbors in very tangible ways in times of natural disaster?
Registration and welcome at 9:30am
Program begins at 10:00am
The program will cover:
Resilience - Developing a Preparedness Plan - We will outline a step-by-step process for you to create your own pre-disaster plan to protect your building(s), resources and people.
Responding to disaster – how to approach the long-term recovery process for our Meetings, schools and individuals to achieve a new normal.
Emotional and Spiritual Care – exploring what it looks like to provide for spiritual needs in times of disaster
Workshop Leaders:
Paul Spiegel, Practical Energy Solutions (Westtown Monthly Meeting)
Dr. Rick Tolin, Climate and Health impacts
Paula Kline, Ed.D., Eco-Justice Collaborative
Nora Wright, LSW (Westtown Monthly Meeting)
Who should attend?
Pastoral Care and Concern and Property Committee members and other concerned Friends. Staff and faculty from Friends schools responsible for emergency planning and spiritual care. Members of other faith communities welcome.

Why attend?
Are our Meeting houses and schools ready for extreme weather impacts in the mid-Atlantic?
The 2017 Atlantic hurricane season surpassed all records in terms of the quantity and intensity of consecutive storms. Hurricanes Harvey, Irma and Maria hit many houses of worship and schools hard. Every school in Florida closed before Irma's landfall; many stayed closed for weeks. In Puerto Rico, Hurricane Maria resulted in thousands of school closures. In the Houston area, Harvey forced the closure of more than 200 schools due to significant damage, displacing more than 15,000 students at the height of storm's impacts. Many southeast Texas and Florida churches and synagogues were damaged or destroyed.

Many of us remember when Sandy battered New York City and New Jersey in 2012. In New York City, 200 school buildings sustained damages, forcing the relocation of tens of thousands of students; 1.1 million NYC school children were unable to attend school for a week, and 12% of teachers had homes in flood zones.
A 2016 EPA report confirmed our local climate is changing. PA has warmed more than half a degree (F) in the last century, heavy rainstorms are more frequent, and the tidal portion of the Delaware River is rising about one inch every eight years. In the coming decades, the changing climate is likely to increase flooding, harm ecosystems, disrupt farming, and increase risks to human health.
Will our Meetings and schools be prepared? Many schools and Meeting houses are highly vulnerable to flood damage due to their location, age and condition. More than half of U.S. public schools, for example, were built in the mid-1900s to accommodate the baby boom generation. They were not designed to withstand the growing frequency and intensity of extreme weather already occurring.
What strategies should we be considering locally? We will be discussing some of these options together:
Guidelines for disaster preparedness
All Meetings and schools need a plan for weather related emergencies. What is already in place? What is involved in creating a plan?
Design Infrastructure for prevention and resilience
Let's design buildings to withstand future floods and limit climate disruption. This will help reduce the human impact and the high cost of rebuilding that typically follows natural disasters. A financial analysis from FEMA found that every dollar invested to reduce disaster risk saves the nation an average of $4 in benefits. By making smart decisions now, policymakers can help reduce potential impacts, while greatly cutting the expense of post-storm rebuilding.
Reduce exposure to toxins and increase use of renewable fuels
Buildings across the nation are updating and installing non carbon-based fuels to reduce pollution and operating costs. By moving away from fossil fuels these houses or worship and schools reduce air pollution, local risk of toxic spills, and long-term core system operating costs, while maintaining facility performance levels in all kinds of weather.