Caring For Black Professionals in White Spaces
This month is the perfect time to gather in care of each other, and to consider ways to end our unnecessary exposure/vulnerability to trauma
About this event
Last month, rev dr candi dugas published a public letter to hold @ngumc of the @unitedmethodistchurch accountable for the #unlawful, #wrongfultermination of her position at predominately #white, Grace UMC in Midtown #ATL.
dr dugas' story is one of too many Black pastors and professionals – still in 2021 – suffering the #trauma of #toxic and #hostile work environments in the #church and #workplace, due to #racism and #whitesupremacy.
So, we have questions.
And some answers.
#MentalHealthMonth is the perfect time to gather in care of each other, and to consider ways to end our unnecessary exposure/vulnerability to this white legacy of race-based trauma.
ALL (w/ good intentions) are welcome - #clergy + the entire community.
Read dr dugas' letter: http://bit.ly/dugasOpenLetterUMC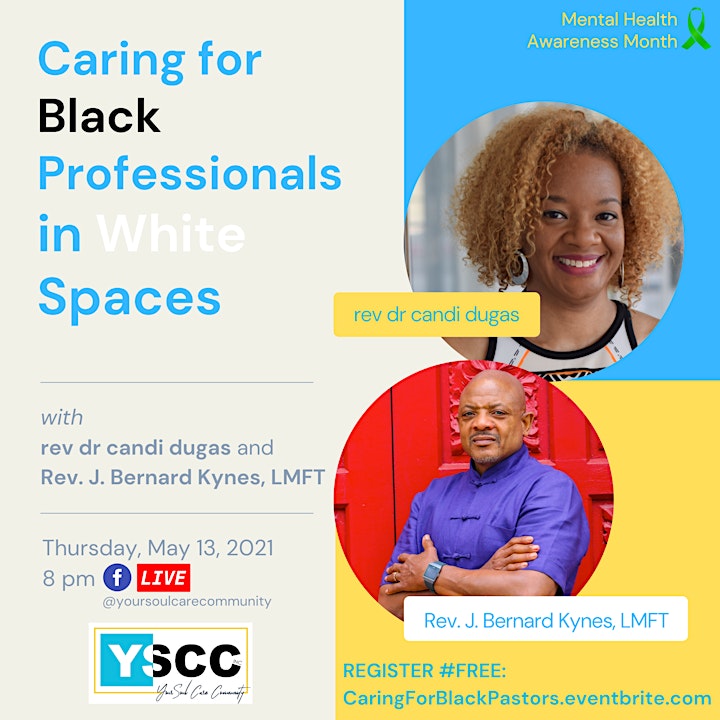 Organizer of Caring For Black Professionals in White Spaces
YSCC IS A GATHERING OF PEOPLE FROM DIFFERENT WALKS OF LIFE WHO DESIRE TO EXPERIENCE SPIRITUALITY IN NON-TRADITIONAL AND UNORTHODOX WAYS.  IT IS OUR HOPE  THAT THROUGH OUR COMMUNITY'S WORK, THE WORLD WILL BE MORE PRESENT, LOVING AND ACCEPTING FOR ALL PEOPLE.  WE DO THIS THROUGH SOCIAL EVENTS, INTIMATE ENGAGEMENT AND NARRATIVE THERAPY PRACTICES.  YSCC OFFERS MONTHLY, QUARTERLY AND ANNUAL EVENTS THAT FEATURE EXPERTS IN THE FIELD OF CARE.  OUR ULTIMATE GOAL IS TO JOURNEY BESIDE INDIVIDUALS AS THEY BECOME MORE PRESENT AND AWARE BEINGS IN HOPES OF LIVING THEIR BEST LIVES.