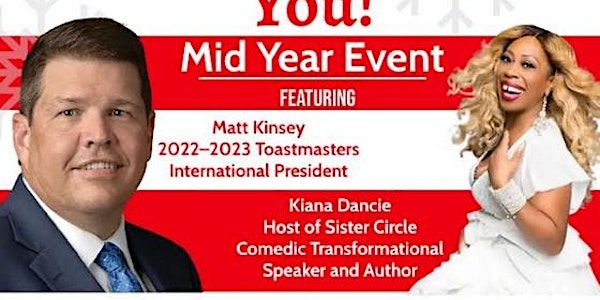 Caring For and Celebrating You
D14 Toastmasters Mid-Year Event - Caring for and Celebrating You! Matt Kinsey (TM International President) & Kiana Dancie (Sister Circle)
About this event
This is a free event and open to everyone - please register using the Zoom link below:
Register in advance for this meeting:
https://us06web.zoom.us/meeting/register/tZElcOuvrT0uHdV7XaHJUQEl23RiP0NhFt3n
We have an excellent panel of speakers that will share holistic options for optimal living.
Host: Versandra Kennebrew
For more than twenty years Versandra Kennebrew has introduced the masses to holistic options for optimal living. She is the host of Optimal Living Starts Here, a holistic lifestyle show that empowers active duty military personnel, veterans, and their families to live more healthy, happy lives.
Berth Bartolin is a Licensed Professional Counselor who has been working in the mental health field for over 20 years. She uses a holistic approach, integrating modalities such as Client-Centered Therapy, Cognitive Behavioral Therapy (CBT), Solution-Focused, and Mindfulness to achieve clients' goals and build an empowered, stronger and healthier sense of self.
Katrin Hodgins believes her personal healing journey started when she signed up to become a yoga teacher. Looking to eastern medicine to fill the gaps in her health and well-being she discovered the 7 main energy centers aka Chakra, She is excited to share what she learned about the energy we often carry around and how it affects how the body shapes itself. Katrin will introduce you to chakras, a map to your own health and well-being.