Caring for All Arizonans with Precision Medicine
Sales Have Ended
Registrations are closed
Thank you for registering to attend the Caring for All Arizonans with Precision Medicine Conference on April 13 at the Sheraton Tucson Hotel & Suites. We look forward to seeing you there! If you have any questions, please contact the conference organizer, Scott Pryor, at the University of Arizona's office of Research, Discovery & Innovation: Phone: 520-621-0598 or Email: RDI-Training@email.arizona.edu
Sales Have Ended
Registrations are closed
Thank you for registering to attend the Caring for All Arizonans with Precision Medicine Conference on April 13 at the Sheraton Tucson Hotel & Suites. We look forward to seeing you there! If you have any questions, please contact the conference organizer, Scott Pryor, at the University of Arizona's office of Research, Discovery & Innovation: Phone: 520-621-0598 or Email: RDI-Training@email.arizona.edu
Description
Caring for All Arizonans with Precision Medicine
A Conference for the Public, Primary Care Providers, and Researchers
Precision medicine is an exciting new approach to healthcare. Genomics testing is increasingly accessible and affordable. These new technologies and healthcare approaches also raise important cultural, legal, and ethical questions: How can we ensure that all Arizonans have access to these advancements in healthcare? How can primary care providers effectively counsel patients in using genomics data to make informed decisions about their health? And how can researchers play a role in helping to navigate these challenging questions? This half-day conference will explore these questions and more.
Agenda
9:00-10:00 AM - Welcome and Keynote Address
Precision Medicine and Just Patient Care - Vence Bonham, NIH National Human Genome Research Institute
10:00 AM-12:00 PM - Breakout Sessions I
Public/Patient Track: Introduction to Genetics Research, Testing, and Implications for Your Health, Beth Tuck
Primary Care Provider Track: Case Studies in Precision Medicine: Perspectivies in Pharmacogenetics, Cancer Diagnosis & Treatment, and Molecular Diagnosis
12:00-1:00 PM - Networking Lunch

1:00-2:00 PM - Breakout Sessions II
Public/Patient Track: Social and Cultural Issues in Precision Medicine - Dr. Francisco Moreno and Dr. John Molina
Primary Care Provider Track: Applying Precision Medicine in the Primary Care Setting, Dr. Valerie Schaibley
2:00-3:00 PM - Closing Remarks
Possibilities for Precision Medicine in the Coming Years - Dr. Ken Ramos
Learning Objectives
Conference participants who attend the Primary Care Provider Track will learn how to:
- Counsel patients and their families about whether and when to pursue genetic-based treatment plans
- Activate and coordinate with the primary care provider team to ensure the patient has the information and counseling they need to decide on a course of treatment
- Interpret and explain results of genomic testing for their patients
- Utilize genomic information in identifying possible courses of treatment and preventative health measures
Presenters:

Vence Bonham, Jr., J.D.
Vence Bonham received his bachelor of arts from James Madison College at Michigan State University and his juris doctor degree from the Moritz College of Law at the Ohio State University. Mr. Bonham was a fellow in the American Association of Medical Colleges Health Services Research Fellowship Program. Mr. Bonham was a faculty member at Michigan State University in the Colleges of Medicine and Law. Since 2003, Mr. Bonham has served as an associate investigator in the National Human Genome Research Institute (NHGRI) within the Division of Intramural Research's Social and Behavioral Research Branch. He leads the Health Disparities Genomics Unit, which conducts research that evaluates approaches to integrating new genomic knowledge and precision medicine into clinical settings without exacerbating inequities in healthcare delivery.
His research focuses primarily on the social influences of new genomic knowledge, particularly in communities of color. He studies how genomics influences the use of the constructs of race and ethnicity in biomedical research and clinical care and the role of genomics in health inequities. The Bonham group has expanded to study sickle cell disease, a condition with a significant health disparity impact both in the United States and globally.
Mr. Bonham also serves as the senior advisor to the NHGRI director on genomics and health disparities. This role complements Mr. Bonham's research work as it enables him to ask conceptually based research questions grounded in the science of health disparities and genomics. From 2011 until 2015, Mr. Bonham was the project leader and co-curator for the NHGRI/Smithsonian exhibition "Genome: Unlocking Life's Code."

Beth Tuck, MA
Elizabeth Tuck is the Genomics Education Specialist at the National Human Genome Research Institute (NHGRI). Before coming to NHGRI, she taught high school biology courses at the Wellington School in Columbus, Ohio and informal STEM (science, technology, engineering, and mathematics) education programming for underserved youth at the St. Louis Science Center in St. Louis. In both roles, Ms. Tuck developed curricula that use inquiry-based techniques and modern research topics to engage students in STEM. She also mentored students pursuing independent research projects, coordinated scientist volunteers in the classroom and informal environments, and developed community outreach events such as NeuroDay and the Teen Science Café program.
Ms. Tuck earned her B.A. degree in biology and psychology at Hanover College in Hanover, Indiana, and her M.A. in molecular cell biology at Washington University in St. Louis. Her graduate research focused on molecular mechanisms of neurological and neuromuscular disorders.

Dr. John Molina, M.D., J.D., L.H.D.
Dr. Molina is Pascua Yaqui and Yavapai-Apache. He is the Corporate Compliance Officer for Native Health, an Urban Indian Health Center in Phoenix, Arizona. He is the former Health Systems Director for the Kenaitze Indian Tribe in Kenai, Alaska. His previous positions were as Chief Executive Officer for Phoenix Indian Medical Center and as Assistant Director and Medical Director for Arizona's Medicaid program division for the American Indian Health Program. Dr. Molina is the founder of Las Fuentes Health Clinic of Guadalupe, a community medical clinic in his hometown of Guadalupe, Arizona. He is also a Vietnam-era U.S. Navy Veteran.
Dr. Molina is a graduate of the University of Arizona College of Medicine and the Sandra Day O'Connor College of Law at Arizona State University. His specialty training is in obstetrics and gynecology, with his clinical practice having been with the Indian Health Service and Las Fuentes Health Clinic of Guadalupe.
Dr. Molina's academic interests are in Indian health care law and policy related to health care disparities, patient-centered medicine, and research in Indigenous communities.
Dr. Molina has published numerous medical articles on the integration of culture and medicine. He has been the recipient of numerous leadership awards, including an honorary doctoral degree in letters, litterarum humanarum (L.H.D.), from A.T. Still University of Health Sciences in Kirksville, Missouri, for his humanitarian work.
Dr. Molina's hobbies are traveling internationally and participating in Indigenous cultural events with his wife, Stephanie Big Crow (Oglala Lakota), and their daughter, Ta'te Was'aka Win (Strong Wind Woman).

Dr. Francisco Moreno, MD
Dr. Francisco Moreno is a Professor of Psychiatry and Associate Vice President for Diversity and Inclusion for the University of Arizona Health Sciences. He also has served as executive vice chair, interim department head and as director for inpatient, outpatient, residency and research programs in the Department of Psychiatry. He has a special interest in working with the underserved and has established clinical, educational and research collaborations to decrease the gap of mental health services for immigrants in Arizona. He has been conducting research in biology and treatment of mood and anxiety disorders, geared to improve our understanding of the brain basis for mental illness and the underlying mechanism of action of antidepressants / antianxiety drugs, and treatment resistance. Dr. Moreno has served since 2009 as institutional representative to the Association of American Medical Colleges (AAMC) Group on Diversity and Inclusion (GDI). In 2010, he was elected Western Region Representative of the AAMC GDI. He also served as a member of the first elected GDI National Steering Committee from 2010 to 2012. In this capacity, he helped identify strategic priorities for diversity, inclusion and equity applicable to all AAMC U.S. and Canadian member colleges. A UA faculty member since 1997, Dr. Moreno has served in a variety of roles at the University of Arizona College of Medicine – Tucson related to academic administration; undergraduate, graduate and continuing medical education; faculty development; promotion; research compliance; resource utilization; and community advocacy. He is a former chairman of the Faculty Diversity Advisory Committee at the UA College of Medicine.
Dr. Moreno through his research collaborations utilizes various research methodologies such as molecular, biochemical, electrophysiological and behavioral correlates of depression. Biology and treatment of mood and anxiety disorders are key areas of his research interest. His work is funded by grants from the National Institutes of Health, Private Foundations, and Collaborations with Industry. He has supervised and mentored a number of interdisciplinary students, psychiatry residents, research fellows and junior faculty. His clinical interest and expertise include treatment resistant mood and anxiety disorders, and serves often as a psychopharmacology consultant to government institutions, health insurances, and pharmaceutical/device industry.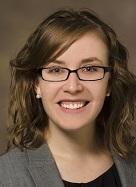 Dr. Valerie Schaibley, PhD, PharmB
Dr. Schaibley is the Administrator for the Center for Applied Genetics and Genomic Medicine (TCAG2M) at the University of Arizona Health Sciences (UAHS). In her role at TCAG2M, she provides administrative and scientific leadership to advance the goals of the center and the Precision Health Initiative at UAHS. Dr. Schaibley received her PhD in Human Genetics from the University of Michigan, studying patterns of mutation in the human genome using rare variant data obtained from next-generation sequencing. She has extensive experience in scientific communications, project management, and precision medicine. Prior to joining UA, she worked in a precision medicine start-up company contributing to genetic testing product development, physician and patient-oriented genetic test reports, bioinformatic and data analysis pipelines, and scientific communication strategies.

Dr. Ken Ramos, MD, PhD, PharmB
Kenneth S. Ramos is associate vice president for precision health sciences at the University of Arizona Health Sciences (UAHS), where he is responsible for developing precision-health strategies and approaches to health outcomes and health-care delivery. He is professor of medicine in the Division of Pulmonary, Allergy, Critical Care and Sleep Medicine, and director of the Center for Applied Genetics and Genomic Medicine and the MD-PhD Program at the University of Arizona College of Medicine – Tucson. Dr. Ramos is an accomplished physician-scientist and transformational leader, designated as an associate of the National Academy of Sciences in 2008 and elected to the National Academy of Medicine (formerly known as the Institute of Medicine) in 2015. He has vast depth of experience across the tripartite mission areas of education, research and clinical service, and he is recognized throughout the world for his scientific contributions in the areas of genomics, precision medicine, environmental health sciences and toxicology.
With training in pharmaceutical sciences, chemistry, biochemistry, pharmacology and medicine, Dr. Ramos is helping to steer the changing landscape of medicine and health care. In this context, he leads several translational, clinical research and educational programs that integrate diverse approaches to elucidate genomic mechanisms of disease and novel therapies for several oncologic, pulmonary and vascular diseases. Dr. Ramos also has provided academic, executive, administrative and scientific leadership in the areas of genetics and genomic medicine at several academic institutions, and over the course of his career has positively influenced the careers of numerous clinicians and scientists engaged in medical, veterinary and pharmaceutical practice. He is deeply committed to initiatives that advance modern technological applications to improve the quality of health care and reduce both disease burden and health-associated costs. One of his primary areas of focus in partnership with Banner – University Medical Center is the development of precision-health strategies and approaches to advance health-care delivery and outcomes.
Continuing Medical Education
This activity has been planned and implemented in accordance with the accreditation requirements and policies of the Accreditation Council for Continuing Medical Education through the joint providership of The University of Arizona College of Medicine - Tucson and Research, Discovery & Innovation. The University of Arizona College of Medicine – Tucson is accredited by the ACCME to provide continuing medical education for physicians.
The University of Arizona College of Medicine – Tucson designates this live activity for a maximum of 4.5 AMA PRA Category 1 Credit(s)™. Physicians should claim only the credit commensurate with the extent of their participation in the activity.
The Southern Arizona Biomedical Research Symposia (SABRS) 2018
This workshop is part of the Southern Arizona Biomedical Research Symposia (SABRS). SABRS 2018 are designed to disseminate biomedical research industry best practices and enhance pertinent regulatory expertise among Arizona's biomedical and clinical research community. National and local experts will facilitate a series of high quality educational symposia open to all Arizona university and hospital staff and community research partners. The curricular content will provide biomedical researchers and scholars with the knowledge and resources to increase the quality and quantity of externally-funded research and scholarly activity. Symposium content is directly relevant to all levels of research activity within the biomedical field, and addresses grant writing, publishing, compliance, and critical aspects of clinical trial management.
FAQs
What are my parking options for getting to the event?
Parking at the Sheraton Tucson Hotel & Suites is free.
Can I get to the Sheraton using public transportation?
Yes. The Sheraton is located along the Grant Road Sun Tran bus route. To plan your bus trip, use the Sun Tran website.
How can I contact the organizer with any questions?
Research, Discovery, & Innovation
Ph. 520-621-0598
RDI-Training@email.arizona.edu
Can I update my registration information?
Yes. If you need to change your registration information, log back into Eventbrite and make any necessary adjustments. If you encounter any difficulties please contact Research, Discovery & Innovation: Ph. 520-621-0598; Email: RDI-Training@email.arizona.edu
Sponsored by