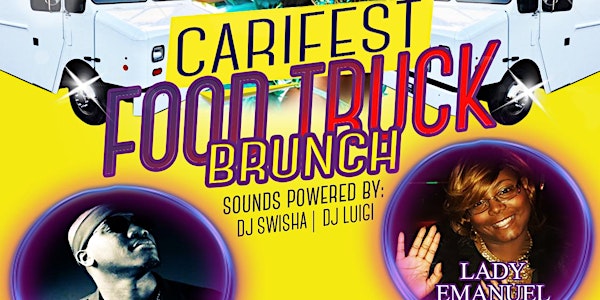 Carifest Food Truck Brunch
When and where
Location
Canon Street Arts Center 134 Cannon Street Charleston, SC 29403
Description
Carnival Last Lap celebration. Carifest Food Truck Brunch.
Celebrate the last day of Charleston Carifest with a unique Brunch option. Indulge in Caribbean Food and enjoy the sounds of Scrouge the sensational Soca Artist from the Virgin Islands, meet Lady Emanuel a budding Gospel Artist and dance to Caribbean music Reggae, Soca, and Salsa by DJ Swisha and Luigi.
Lady Emanuel born Marqita Nicole Davis in Irvington New Jersey on November 10, 1983. She grew up between the two cities of Brunswick and Reidsville, Ga. She began singing in church at an early age. She now resides in Brunswick, Ga with her husband Ishmael Emanuel (song writer of EP). On May 11th 2017 the two together release an EP titled "He's Been Good To Me". The EP is American/Caribbean gospel that has it's very own sound. Lady Emanuel is currently a member of Zion Rock Missionary Baptist Church where she sings in the choir and on the praise team.
Come eat, drink, and be merry.