Description
Entrepreneurs made their requests. And we listened!
Introducing the Monthly Keynote Series! Where successful Caribbean entrepreneurs from all over the world provide mentorship by sharing top 5 lessons on how they launched and scaled their companies. All events are hosted online.

Date: First Monday of every month

Time: 7-8pm EST

Structure: 30 minute presentation + 20 minute office hours Q/A

Offer: Each speaker states what they will give back to the Caribbean community. Some have connected startups to press, brought exposure to startup campaigns via their social media networks or even whatever they deem is valuable for entrepreneurs.
2016 Roster
August 8

September 5

October 3

November 7

December 5
---
2016 Roster
August 8--From Jamaica-Kirk-Anthony Hamilton is an architectural designer turned entrepreneur and investor from Kingston,Jamaica. He is the CEO of the Infiniti Partnership, a company connecting opportunities to a dynamic network of people, capital and markets.The business focuses on interests in real estate,hospitality, retail, lifestyle and entertainment."OnMay112015Kirk-Anthonywas 1of75 Emerging Global Entrepreneurs from around the world selected to be honored by President Barack Obama at an event hosted at the White House as a part of the President's Global Entrepreneurship Initiative. "In January of 2016 Kirk-Anthony was selected as 1 of 50 members of the GlobalShapers Community to participate in the World Economic Forum's Annual Meeting in Davos,Switzerland.
---
September 5--From Guyana-Andrew Yakub-Founder/CEO, Rayton Solar- Andrew Yakub is the founder and CEO of Rayton Solar Inc, which has developed a proprietary technology that allows the manufacture of solar panels that are up to 60% cheaper and 25% more efficient than the market standard. Andrew has been featured as one of the Forbes Top 30 Under 30 in 2016 for Energy. Prior to Rayton Solar, he founded ReGen America Inc, a solar finance company that developed and financed some of the largest commercial solar rooftop projects in Los Angeles. ReGen successfully received over 3 million dollars in government grants and operates over 6MW of commercial rooftop solar. Before entering the solar industry, Andrew was a design engineer at the UCLA Particle Beam Physics Laboratory and an engineer at NASA's Jet Propulsion Laboratory working on the Mars Science Laboratory exploratory probe. Andrew holds a Bachelors degree in Physics from the University of California at Santa Barbara.
---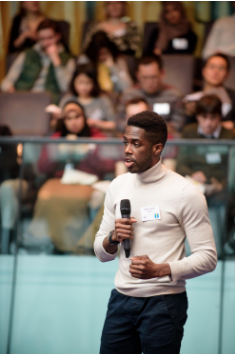 November 7–From Barbados, Carlton Cummins currently operates a clean technology startup in London, focused on developing energy storage particularly for developing regions. This interest in batteries was sparked by his background in renewable energy in the Caribbean, where he coordinated the installation of over 100 solar electricity systems. During this time, he identified a significant need for energy storage in high opportunity markets like the Caribbean, which was not met by the market due to the high cost of existing solutions. In pursuit of a solution in 2014 his conducted a master's degree in Sustainability Entrepreneurship and Design in London. This journey led to the development of his company Aceleron. Today Aceleron is rapidly growing in the UK startup scene, with filed patents, successful competition entries and keen interest from investors in its technology and sustainability focused business model. Beyond his startup, the interest in technology can be seen in his numerous projects such as the electric motorcycle he designed, built and demonstrated as his final year engineering project at UWI St.Augustine. He has also performed the role of battery engineer for an electric motorcycle racing team which competed at the 2015 Ilse of Man TT.
---
December 5 ---From Barbados- Neysha Soodeen, is the CEO of Toute Bagai Publishing, one of the Caribbean's largest publishing houses in the Caribbean.The company's flagship, MACO Caribbean Living magazine was the Caribbean's first oversize glossy magazine to be retailed globally including major bookstore chains such as Barnes & Noble and Borders in the US; Chapters and Indigo in Canada and WH Smith and Waterstones in the UK.Since the launch of MACO 16 years ago, Neysha and her all female team at Toute Bagai Publishing have produced numerous magazines for clients in and out of the Caribbean. Toute Bagai Publishing is now considered one of the largest magazine publishing houses in the Caribbean producing over 20 magazines per annum and over 10 different titles. Toute Bagai Publishing has received many international accolades including international print and design awards such as the SAPPI International Printers Award. Neysha is also the recipient of numerous awards including the Marcella Martinez Award for her contribution to promoting the Caribbean internationally. She has sat and continues to sit on numerous NGO boards across the region, is Chair of the capital raise to build Barbados' first hospice and is also the Chair of a State Owned Company under the Ministry of Trade and Industry in the government of Trinidad & Tobago, called CreativeTT, which is mandated to exploit the creative industries to contribute to the GDP of the twin island state. Neysha is also President of the Caribbean Publisher's Network, the Caribbean's only publishing association.
---
2017 Speakers TBA