| | |
| --- | --- |
| Caribbean Vibes - Punta Cana, Dominican Republic | |
Event Details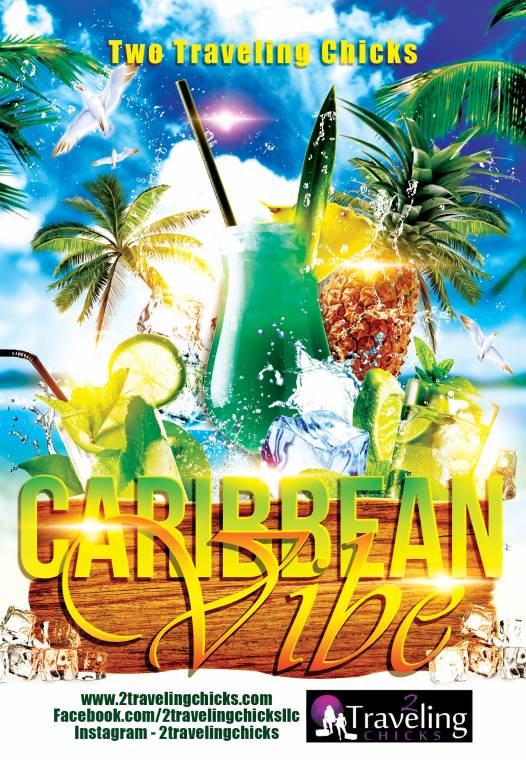 Caribbean Vibes 2016
September 9-12, 2016
ALL-INCLUSIVE RESORT 4 day/3 night Vacation

 Package Includes 
>>>> 4 Day /3 Nights at the  All Inclusive Now Resort Punta Cana

>>>> Roundtrip Transfers (Airport/Resort/Airport) 
>>>> Meals including a la carte & buffet restaurants Drinks (including premium liquors) 
>>>>  Roundtrip connecting airfare from Atlanta/Punta Cana/Atlanta

>>>>All taxes & gratuities  
Pricing
The price for the couple is $750 per person which includes everything in the package described above.  Please contact agent if you have any question about package details

Payment Guidelines 
$  Full payment due immediately to guarantee rates

Payments are accepted in the form of checks, money orders, and cashier checks.  All checks needs to be made payable to Two Traveling Chicks and sent to the address below:
We also accept online payments at https://vibes2016.eventbrite.com. This site accepts echecks and all major credit cards.
You can also remit payments after paying your initial payment via paypal.  We need for you to respond to all the travel questions within your initial payment but welcome paypal payments.  The paypal address is trips@twotravelingchicks.com
We also accept Stripe payments after your initial payment has been made via Eventbrite.  This payment does not charge the Eventbrite Fee.  Details on this payment type will be provided to you via email.
Policies
-All payments are NON-REFUNDABLE unless the agency is at fault.
 -A passport is required for this event. 
-Please register in the name shown on your passport for all remitted payments, nicknames are unacceptable
-Travel Insurance is available through Allianz Insurance and you must purchase within 20 days of initial down payment.  When purchasing the insurance, if you cancel your trip, all refunds request must be made directly with Allianz.
-It is best to pay your initial deposit as soon as possible to guarantee you are locked in at the above rates. Rates are subject to increase. 
-If you fail to make monthly payments, your reservations are subject to cancellation and all monies paid will be forfeited.  If there is a payment problem, ensure you speak with your agent.
 -It is imperative to make sure your roommate's payments are made in a timely manner. If your roommate does not make timely payments or decides not to attend, you will be required to pay a higher Occupancy Rate.
 -A $25 late fee will be imposed for all payments received after the final payment deadline (NO EXCEPTIONS).
-All correspondence regarding this trip is sent via email. Please provide an email address that is checked frequently.
Contact 
Sharita Dial
Via Phone: (888) 669-1194 
Via Email: sharita@twotravelingchicks.com
Via Web: www.twotravelingchicks.com  
Via Facebook: www.facebook.com/2travelingchicksllc
Where

Now Punta Cana

Punta Cana, Dominican Republic
Dominican Republic

Organizer
Sharita Dial @ 2 Traveling Chicks
2 Traveling Chicks is a travel agency dedicated to providing enjoyable, leisurely travel experiences at affordable prices.  Please visit our website at www.twotravelingchicks.com. Remember to connect with us on twitter at @2travelingchick and www.facebook.com/2travelingchicksllc. 
We are certified, licensed, and experienced travel agents whose focus is on delivering the experience of a lifetime.
(888) 669-1194
Caribbean Vibes - Punta Cana, Dominican Republic