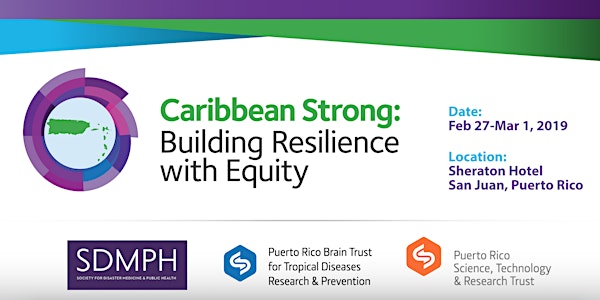 Caribbean Strong: Building Resilience with Equity
Location
Sheraton Puerto Rico Hotel & Casino
200 Convention Boulevard
San Juan, San Juan 00907
Puerto Rico
Description
This summit will focus on lessons learned following the two devastating hurricanes that hit Puerto Rico and the Caribbean Region in 2017.
We invite you to join us in this important event to share your experiences, lessons learned and recommendations for enhanced resilience in health care systems and public health. An emphasis will be placed on the critical need for collaboration and integration across all sectors to improve and strengthen the health and resilience of the Caribbean's citizens and communities during this important recovery and rebuilding phase. The Caribbean Region is in a unique time in history to "Build Back Better," and this will require a new level of leadership focused on following innovative strategies that are founded upon evidence-based approaches and lessons learned to maximize the opportunities available.
We recognize that in Puerto Rico and the Caribbean Region, most systems, both private and public were impacted by the hurricanes. An integrated examination of the resilient capacity of all sectors and their interdependencies is essential to develop evidence-based best practices for the future. Sectors identified as: Independent and Community Resilience, Infrastructure (water, energy, fuel and transportation), Communications, Housing, Essential Services, PHARMA and Pharmacy Services, Morbidity and Mortality Management and Reporting, Hospital and Clinics, Vulnerable Populations and others will be addressed by local and national speakers and presenters in panel discussion and breakout sessions.
---
Este evento se enfoca en las lecciones aprendidas después de los dos huracanes devastadores que azotaron a Puerto Rico y la Región del Caribe en 2017.
Lo invitamos a unirse a nosotros en este gran evento para compartir sus experiencias, lecciones aprendidas y recomendaciones para mejorar la resiliencia en los sistemas de salud y salud pública.
Se enfatizará en la necesidad crítica de colaboración e integración en todos los sectores para mejorar y fortalecer la salud y resiliencia de ciudadanos y comunidades del Caribe durante esta importante fase de recuperación y reconstrucción.
La Región del Caribe se encuentra en un momento único en la historia para "Una mejor reconstrucción", al seguir estrategias innovadoras con una base de evidencias y lecciones aprendidas para maximizar las oportunidades disponibles.
Reconocemos que en Puerto Rico y la región del Caribe, la mayoría de los sistemas, tanto privados y públicos, se vieron afectados por los huracanes. Una evaluación de la capacidad de recuperación de todos los sectores y su interdependencia es esencial para desarrollar mejores prácticas basadas en evidencia para el futuro.