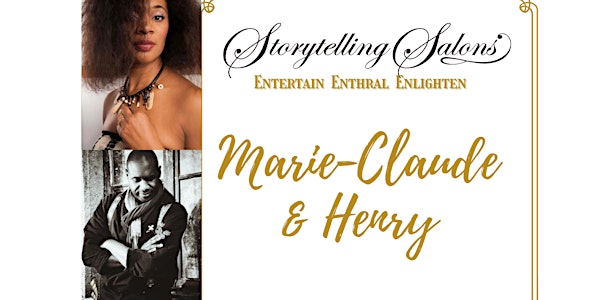 Caribbean Salon with Opera Singers - Marie-Claude and Henry ONLINE via ZOOM
Caribbean Salon with Opera Singers - Marie-Claude and Henri ONLINE via ZOOM
Refund Policy
Refunds up to 1 day before event
Eventbrite's fee is nonrefundable.
About this event
This Storytelling Salons features Marie-Claude and Henry who will delight us with classical opera from their vast repertoire. They will perform solo and as a duet with pieces from Mozart, Verdi, Clapisson and a selection of their Caribbean favorites. Spyros Thomas will provide accompaniment on the piano. Marie-Claude and Henri met in Paris, where they are now based, and have performed together in Avignon. Both perform internationally and sing the gamut of genres but share a passion for opera. Below is a brief description of their stories but attend the salon to learn more.
Marie-Claude's story …….Born in Paris with cultural roots in Martinique. Marie-Claude is a multi-talented Soprano with amazing versatility in Opera, Contemporary Opera, Musical Theatre, Sacred Music, Caribbean, Baroque, and Gospel. Initially, Marie-Claude studied Sociology earning a Master degree at Science Po in Paris and consulted in communication before embracing her passion for a lyrical artist career. This led to studies and Masterclasses across Europe in France, Italy and Belgium. To complement her passion for singing, she studied various genres of dance - Modern Jazz, Classic, Contemporary and "ethnical dances" - Hindu, Afro-Caribbean, and Brazilian. Learn more of her story at the salon. Henry's story…..Originally from Guadeloupe, Henry moved to France at two. His repertoire includes famous arias in French, German, English, Italian, Spanish, Hungarian, and Portuguese. In addition, he performs a rainbow of genres including Gospel, Jazz, Spiritual, Musicals, World, Rock, Reggae, R & B, Latin, Country and Blues. His instrumental training started at a young age with the violin, piano and guitar. However, he discovered choral singing at the parish school igniting a passion for the stage. A potential early singing career took back burner as Henry studied medicine, then the military service and finally landed a vocation in the security industry with the European Space Agency. A fortunate layoff in 2013 gave him the opportunity to fulfil his dream to pursue an artistic career. Henry complements his singing talent with studies in theatre and acting. Learn more of his story at the salon.
This is a hybrid event where I hope to welcome you either onsite at 19:00 in Paris for a Caribbean inspired dinner (see menu) or online at 20:15 via ZOOM.
Yours in Opera,
Bernadette
Marie-Claude: www.marieclaudebottius.com