About this Event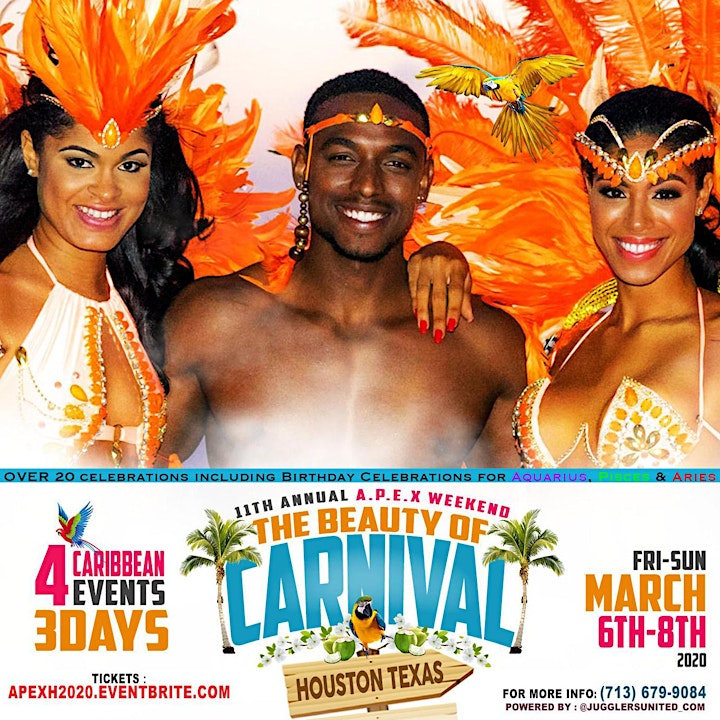 2️⃣0️⃣2️⃣0️⃣ A.P.E.X weekend we celebrate the beauty of Caribbean Carnival culture with our annual themed events.
.
FRIDAY MARCH 6️⃣TH 9pm-
Caribbean Party Bus Ride roundtrip from Houston Texas to San Antonio Texas
.
Saturday March 7️⃣th 11pm-3am
A.P.E.X Caribbean Party with many bday celebrations for peeps who are Aquarius, Pisces & Aries is a Carnival Fete type of event that will have you feel like you are in anyone of the marvelous Caribbean Islands parties with the Food, Music & most importantly the vibe.
.
Sunday March 8️⃣th 9am-12pm
Private Breakfast Party Lime for all guests who buys a weekend pass you will get to enjoy complimentary breakfast with various Caribbean dishes & entertainment by Intl DJs.
.
Sunday March 8️⃣th 4pm-9pm
Fashion × Culture is a mandatory red carpet dress attire ( No Entry if your not dress like you going to the Met Gala). Be entertained by a live Caribbean Fashion Show headlined by Designer @fonrose_thebrand & other Caribbean designers. Lots of Different Caribbean cuisine & drinks will be available & Entertainment by Intl & Local entertainers.
Please follow us on Instagram at @apexweekend & Facebook @Apex weekend for any further info you may need.
Proud supporter of Lupus Awareness in the fight to help those with this autoimmune disease. Proceeds from this event are always donated to this initiative.