About this Event
On behalf of the TriniFly Promotions & Caribbean Concerts, we are sadden to announce the cancellation of the Caribbean Concerts festival for 2020. The uncertainty of COVID-19 and these unprecedented times have stipulated that festivals as we knew it could not continue.
Our main focus remains to be the well-being of our guests, staff, artists, and all persons involved in the execution of these events. The entire TriniFly team would like to thank you for your unwavering continued support over the past 14 years.
Just know that all 2020 event tickets will be honored in 2021. Although this is not the future anyone anticipated, we hope to enjoy the Carnival festival experience with you next year. As one Caribbean family, we will get through this!
Stay tuned to www.CaribbeanConcerts.com for upcoming information. Stay safe, healthy, and blessed.
#TriniFlyPromotions #CaribbeanConcerts #Postponed #Caribbean #Festival #Soca #LiveConcerts #TriniFly #WildSafari #SixFlags #GreatAdventure #Calypso #Reggae #Dancehall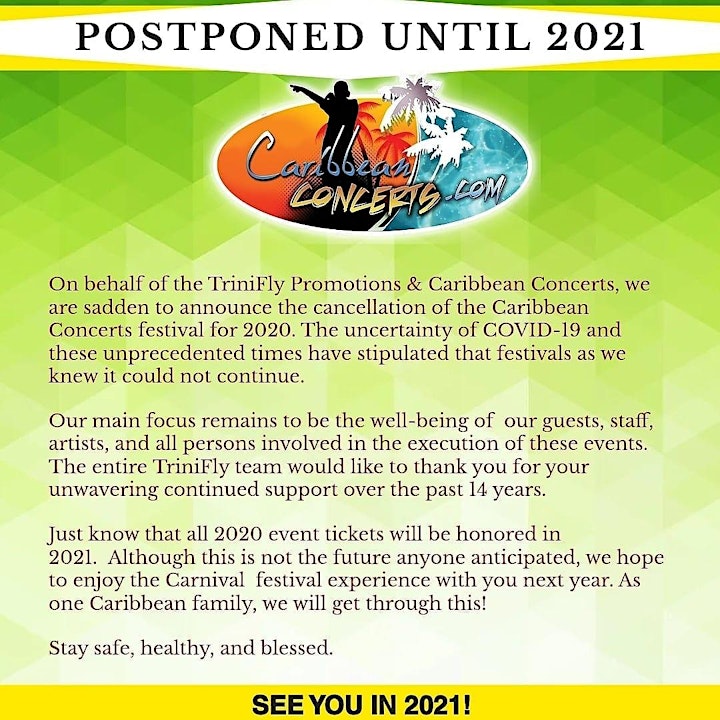 Date and Time
Refund Policy