Description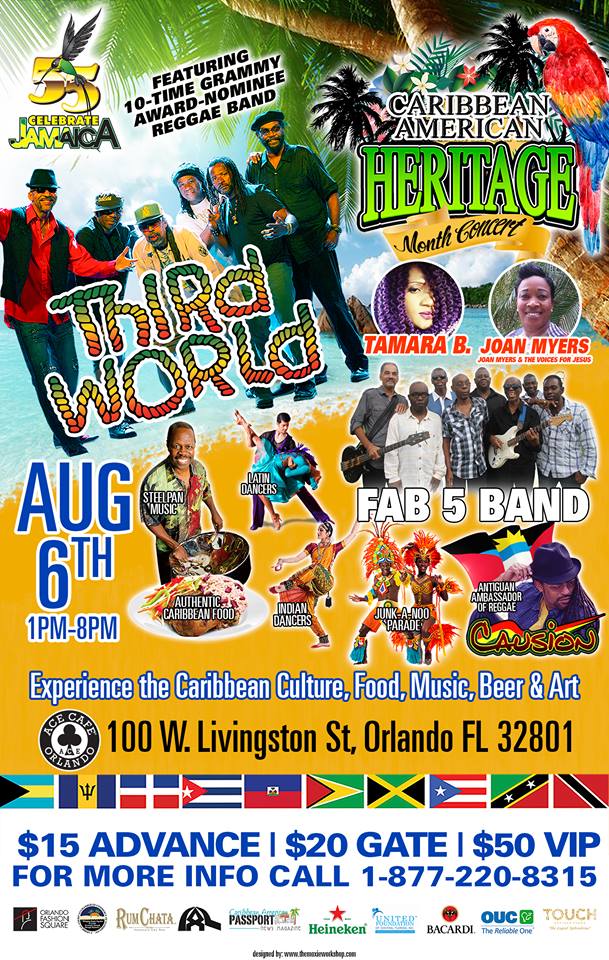 Caribbean American Heritage Month Concert features a taste of World class reggae and culture in the heart of downtown Orlando. This event will feature the amazing Fab Five Band, Tamara, Causion, Joan Myers and Voices for Jesus all alongside the 10 Time Grammy Award Nominee 'Third World' reggae band.
More about the Event:
On August 6th, ACE Café, Downtown Orlando will be transformed into a Caribbean Village allowing guests to experience a first-hand taste of Caribbean Food, Drinks, Music and Culture with a special presentation from Jamaica's Reggae Ambassadors Third World Band.
Downtown Orlando, will come alive with the sounds of authentic soca and reggae music, Steel pan, African drumming and the smell of authentic Jerk chicken fresh off the grill. Fresh water coconuts will be cut on site and served to guests.
This promotion will also feature Zumba dance competitions, Carnival Costume making and steelpan. There will be Two lucky winners of a round trip airline ticket, courtesy of JetBlue Airlines, to fly to the Caribbean.
VIP Guests will enjoy complimentary, Caribbean Food Samples. They will also enjoy Reggae Punch and Reggae Rum Punch samples courtesy of Bacardi as a part of their Sound of Summer, Sound of Rum Campaign.
The highlight of the event will be performances by Grammy nominated, Third World Band, of Jamaica, who boasts hits such as 96 Degrees in the Shade and Now that we Found Love, Causion of Antigua and Barbuda, Fab Five of Jamaica and local performers. Joan Myers and her amazing Choir will kick off the show with a Gospel Segment that pays tribute to the Emancipation tone during this time in the Caribbean.
This concert is part of an annual presentation that highlights and celebrates the culture of the Caribbean during Caribbean American Heritage Month. This year's concert was postponed from June to August 6th.
A fundraising component was added to the Annual Free Festival and part proceeds raised from this event will go to support United Foundation of Central Florida Inc.
United Foundation is a mentoring organization at Evans High School, which successfully helped 19 graduating students navigate towards continued education through University/College, Military or continuing education.
This event will be the first large festival/concert to be held at ACE Cafe since it's opening. The two story venue has an industrial edge to the design, with a combination of brick, metal and wood working alongside polished concrete floors, exposed beams and pipes. It is a venue that can comfortably cater for close to 1000 people indoors and 3000 outdoors. Festival attendees will be able to wander around the restaurant to view art, the vintage motorcycles or to shop in the store on site. It's a great combination of indoor and outdoor to give a break for those who need it from the sun or rain.
For more information, please contact: Sam Roberts, Event Organizer 407-810-6435
#JamaicanIndpependenceCelebration, #EmancipationCelebration #CaribbeanHeritageMonthFestival #ReggaeCelebration #CaribbeanConcert #SummerConcert