Description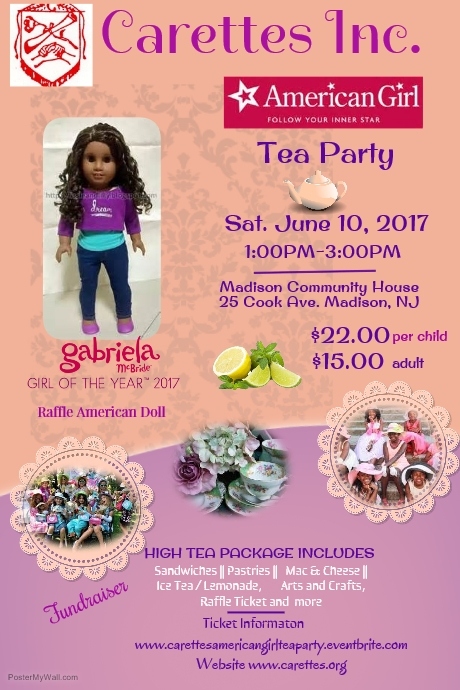 Carettes Inc. of Morris County is excited to announce our first American Girl Tea Party, slated for Saturday, June 10, 2017 from 1:00 – 3:00pm. The event will be held at Madison Community House and is a multigenerational event for individuals of all ages. The Members of Carettes Inc. are excited about this tea party as we have a myriad of fun activities planned including: a photo booth, a nail painting station, a craft station, and so much more. We will also be raffling off the American Girl Doll of the Year. It is sure to be fun for girls of all ages!
There are a variety of ways that you can be involved:
Donate items. If you own your own business or have a special trade, please feel free to donate items for door prizes or for our silent auction. Every child will leave with a special gift, but we also like to provide additional items for adults.
Attend the event with your daughter, mother, grandmother, and/or friends. Tickets are $22.00 per child and $15.00 per adult.
*Seats are limited and it is strongly encouraged that tickets be purchased in advance.
If you are interested in participating in this exciting event or have any questions, please contact Carettes Inc. at https://www.facebook.com/carettesofnj/ or carettesinc@gmail.com