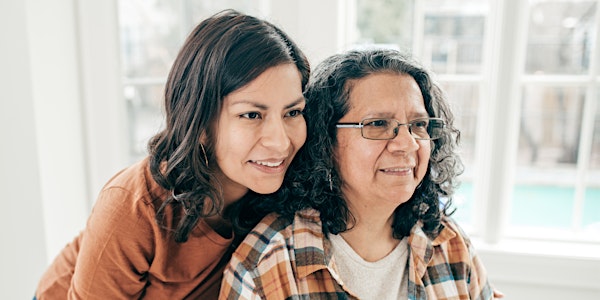 Caregiving Today: A Look at This Vital Role and What it Takes
Free Event: Celebrate National Family Caregivers Month with the All of Us Research Program
About this event
Panel Discussion: Livestream, 45 minutes
Accessibility:
American Sign Language (ASL) Interpretation
Closed Captioning: English
About the Panel Discussion
On Thursday, November 17th at 4 PM ET/1 PM PT, join this virtual discussion about Caregivers. Whether professionals, family members, or friends, they give so much for the well-being of those in their charge, but who cares for the Caregivers? This program will focus on the health of the caregiver, needed resources, and how data and experience can help drive needed research.
This event is for free and open to the general public.
This event will be recorded and made available on NNLM's YouTube Channel.

Panelists
Moderator: Gretchen Funk, Chief Program Officer, FiftyForward
Dr. Eboni Green, Core Research Faculty, Walden University and CEO & Co-Founder, Caregiver Support Services
Jane Hamilton, Founder and Chief Content Officer of Partners on the Path, LLC, and Pinnacle Help4Caregivers, LLC
Dr. Luz Maria Garcini, Assistant Professor, Rice University
A reminder email will be sent to you in the days before the panel discussion; this email will include instructions to join.
Questions?
Please contact us with any questions: lib-NAPCengage@uiowa.edu

This event is in collaboration with the All of Us Research Program, which is inviting one million or more people across the U.S. to help build one of the most diverse health databases in history. Researchers will use this data to learn how our biology, lifestyle, and environment affect health to help personalize medicine in the future. Learn more about this historic program at joinallofus.org/nlm.