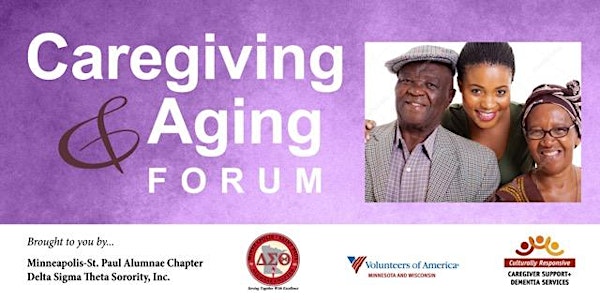 Caregiving And Aging Forum
A virtual forum with experts discussing topics related to caregiving, hospice services, dementia, and estate planning.
About this event
Minneapolis-St. Paul Alumnae Chapter of Delta Sigma Theta Sorority, Inc., in partnership with Volunteers of America of Minnesota/Wisconsin and the Culturally Responsive Caregiver Support and Dementia Services program, is offering this free virtual forum about various topics related to caregiving and aging.
A Model Program
Family Caregiving
Dementia
Hospice
Estate Planning
Attendance is free, but registration is required. Virtual participation links will be provided to registrants via email prior to the event.
PRESENTERS
Dorothea Harris, MSW, LICSW, Program Director, Culturally Responsive Caregiver Support and Dementia Services program with Volunteers of America of Minnesota/Wisconsin [Biography]
Carolyn Smith, MSW, Caregiver Support Specialist, Culturally Responsive Caregiver Support and Dementia Services program with Volunteers of America of Minnesota/Wisconsin [Biography]
Kirstin Johnson-Nixon, MSW, Registered Caregiver, Culturally Responsive Caregiver Support and Dementia Services with Volunteers of America Minnesota'/Wisconsin, Family caregiver and COVID survivor [Biography]
Dr. Kevin N. Brown, Chief of Neurology of Minneapolis VA Healthcare System and Regional Co-Director of Minneapolis VA Multiple Sclerosis Center of Excellence [Biography]
Dr. Caroyln B. Love , Certified Chaplain in Clinical Pastoral Education & End of Life Coaching [Biography]
Ivory Umanah, Founding Member, Engelmeier & Umanah, P.A's Trust, Estates and Business practice group[Biography]