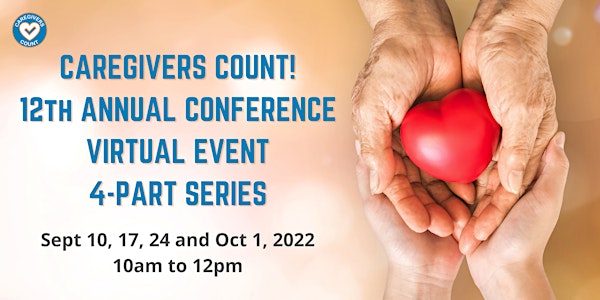 Caregivers Count 12th Annual Conference
The 12th Annual Caregivers Count Conference is tailored specifically for family or informal caregivers who are caring for older adults.
About this event
The conference will be held over four consecutive weeks, on September 10, 17, 24, and October 1. Attendees will have the opportunity to hear from informative speakers as well as senior service agencies to learn about supportive services in Santa Clara County.
This year's conference will be streamed live via Zoom. In addition, for the opening session on September 10, there will be an optional in-person "watch party" held at the Hearts & Minds Activity Center in San Jose (2380 Enborg Lane). Come meet your fellow caregivers and take home some free goodies from AARP!
Please note that there will not be watch parties for the sessions on 9/17, 9/24, and 10/1.
All sessions will be recorded so that caregivers can refer back to them after the conference.
EVENT TOPICS:
September 10, 2022: Keynote: A Holistic Approach to Self-Care ( Jenn Chan, Senior Shower Project)
September 17, 2022: Strategies for Dementia Caregiving (Tami Anastasia, Dementia Caregiver Educator & Trainer)
September 24, 2022: Introduction to Long-Term Care (Vanessa Souza, Alzheimer's Association)
October 1, 2022: Fall Prevention & Home Safety (Santa Clara County Fire Department; Jenn Schachner, Lecturer @ San Jose State University)
For more information, please go to our event website: https://www.caregiverscount.net/
THANK YOU TO OUR SPONSORS!!