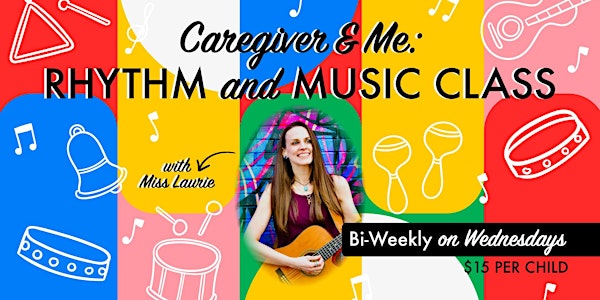 Caregiver & Me: Rhythm and Music Class for the Littles (Ages 4-5)
Location
Second Star to the Right Children's Books
1455 S. Pearl Street
Denver, CO 80210
A 45-Minute Music Class for Your Little Ones! Tickets Required - Instruments Provided
About this event
Rhythm and Music Class:
Hit lots of things with other things and make loud noises!! Hand bells, stick bells, tambourines, egg shakers, bucket drums, rhythm sticks and more! Play fun games that teach rudimentary music concepts like dynamics (volume), tempo (speed) and rhythm (frequency/duration of sound)! Practice rhythm essentials like counting, clapping and tapping. Learn about basic music notation symbols like quarter notes and rests, and take turns for making up patterns for everyone to play!
Instructor Bio - Laurie Michelle:
Laurie Michelle grew up classically trained on violin and piano in Salt Lake City, Utah and is passionate about introducing children, teens and adults to the magic and beauty of music. Over the course of her life she has also learned to play the viola, cello, electric bass, acoustic guitar, ukulele, mandolin, various percussion and also has a passion for singing & songwriting. While she was studying Classical Composition & Performance at The University of Utah, she began teaching private music lessons to supplement her income and hone her skills - as well as developing new training materials and managing staff training at her day job. She taught for a year at an after-school elementary orchestra program for underprivileged communities, and spent another year running the orchestra program at a K-8 college-prep charter school. She recently relocated to the Denver area to be near family, perform her original music and establish her private music academy "Miss Laurie's Music Room", where she offers Mommy & Me music classes (2-5yrs), Group Ukulele classes (6-12yrs) and private lessons (6yrs +older).