About this Event

For the Caregiver
Retreat, Relax, Refresh, Recharge!
Who is this for?
Caring for someone with Alzheimer's, Stroke, Cancer, Physically Disabled, Developmental Disability, Seizures, Elderly, Mental Illness, Parkinson's or any other chronic disease.
Why a special day for Caregivers?
We must say, we do have an ulterior motive. If we help you, you will be able to help others better and you won't get sick.
You are touching a loved one, shifting, turning and prompting all the time. When is the last time you were hugged, embraced or pampered? Come feel the love at the 12th Annual Inner Safari Caregiver Conference.
What is an INNER SAFARI?
The INNER SAFARI Caregiver Conference is an inward journey to self discovery and some time to show yourself some love, recognize and embrace your greatest power – The Gift of Caring!
What is the Soul of a Caregiver?
What is soul and how is the caregiver empowered and sustained? Discovering Soul implies going deeper into the inner caverns of our being and listening to the inner beats of our heart where insight and wisdom abide. -Edward M. Smink Ph.D
The Inner Safari Caregiver Conference
Program
The Heart Beat Drum Ceremony, led by spiritual and self-growth healer and author, Israel Hurtado.
Opening Session: A Guided Meditation, navigated by Anna Marie Winkler, PhD, Clinical Psychologist, Paradigm Shifter and Founder of Aligned Soul
Introductions
Vendor Village Presenters (On-Site and Virtual Vendors), Available from 9am-4pm
Pamper Parlor Servicers, Available from 9am-4pm
Session 1:
Edward M. Smink, PhD, Author, "Soul of Caregiving: A Caregiver's Guide to Healing and Transformation
Kimberly Warmley, Therapeutic and Trauma Recovery Service Provider. Hope and self-realization
Edward Kendricks, Notre Dame Junior University, "Lifting, Turning and Other Maneuvers to Make Caregiving Easier, Safer and Pain-Free!"
Lunch and Entertainment provided by "Insane Wayne", a young comedian finds humor after surviving a gunshot, paralysis and gratitude for a mother's love and caregiving.
Session 2: A Panel Discussion
Carolyn A. Brent, Award-Winning Author, Bodybuilder and Elder-Care Legislation Advocate . Her most recent book is "Transforming Your Life Through Self-Care".
Randall Ward Rosa, Elder Law Attorney, "Legal-eze of Caregiving, including Long-Term Planning, Living Trust and Share the Cost and Expenses for Long-Term Care
Joseph Rendon, Vice-President, F & M Bank, "Protecting Assets and Other Valuables
Session 3: A Discussion: Mental Health, Suicide and Addiction
Daniel H. Kim, Jr., MPH, MCHES, MCHES, Supervising Public Health Educator
Big Wins! Announcements
Closing Ceremony: Anna Marie Winkler, Founder of Aligned Soul
Our outstanding Emcees and Safari Navigators are Jim T. Chong, Carolyn A. Brent and Gillian Larson.
Jim T. Chong is a Master Emcee, Publicist, Published Author, Financial Advisor and Radio Personality. Jim is also known as "The Wok Star".
Carolyn A. Brent is one of our great speakers at this year's INNER SAFARI Caregiver Conference. Her latest book, Transforming Your Life Through Self-Care, A Guide to Tapping Into Your Deep Beauty and INNer Worth, is truly a guide for self-care. Her outstanding message is one thing, but having her support is a special added-value . Attendees will gain the support to follow-through from wherever you are. There has to be a beginning to see the benefits at the end. Be the best you!
Gillian was an RN for over 36 years, serving as both a professional and Family Caregiver. Her passion is to help raise funds supporting the Cancer Resource Center, Michelle's Place in Temecula, CA through her non-profit agency, Reality Rally. Her motivating messages emerged from her pursuit and achievement to be on the CBS-TV show, Survivor, where is now noted as the oldest contestant on the show. With true grit and determination, Gillian speaks to inspire others to not give up! She enthusiastically brings thousands of people together yearly and is truly a Survivor.
Attire: Wear safari attire or comfortable clothing for a journey of discovery and fun!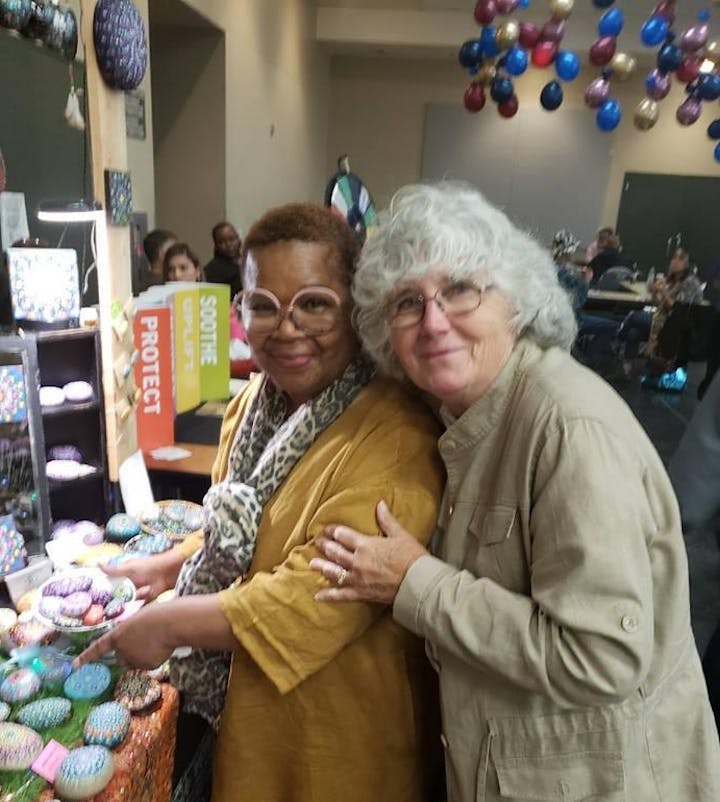 Mary Nicholson, founder of Healings in Motion and Gillian Larson , one of the Emcees, have fun discovering some of the wonderful treasures at this fun-filled get-away!