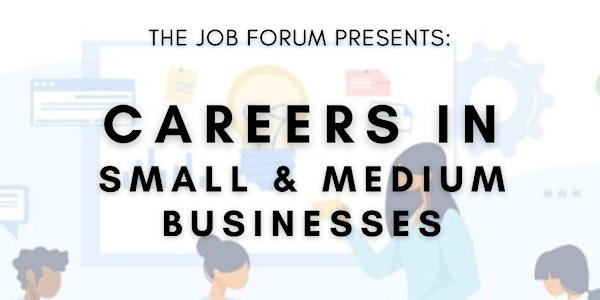 Careers in Small and Medium Businesses
Come and see that you are a good fit for wide variety of roles that keep small and medium businesses humming. Free
By The Job Forum, sponsored by SF Chamber of Commerce
Date and time
Thursday, May 25 · 6 - 8pm PDT
Refund Policy
Contact the organizer to request a refund.
Eventbrite's fee is nonrefundable.
About this event
Thursday, May 25 @ 6pm on Zoom.
Did you know that small and medium businesses are the lifeblood of the states economy?
Do you know that companies with less than 100 employees make up 98% of the total number of businesses in California? They employ 40% of the total workforce. Come to The Job Forum and learn more about how to succeed in your job search.
Did you consider that working in small and medium business has many advantages? Come see if you are a good fit for a variety of jobs that are great opportunities.
The Job Forum invites you to a free career panel, focused on job search and career advice for jobs in small and medium businesses. The panel discussion is with experts who hire at their companies and will answer your questions. The event is free, donations are gratefully accepted.
Job hunters will hear from experts who are managers who work for and with small and medium businesses here in the San Francisco Bay Area.
You'll learn about job opportunities to consider. You will see why to put small and medium size businesses on your list as target companies for your own job search.
The panel will discuss careers in these businesses and will go into detail about what some of the many advantages are.
The roles to be discussed might include data entry, analytics, IT, human resources, marketing, digital marketing, Salesforce administration, social media, websites, sales, project and program management, accounting/bookkeeping/payroll, administrative jobs and more.
The panel will share with you the pros and cons of working with small and medium businesses and ideal job candidates will be described so you can position yourself to succeed with small and medium businesses.
You will meet and hear from experts and be able to ask questions and build your job search network.
About the organizer
The Job Forum aims to help people help themselves in their job search. Our approach is focused on intelligently planning and conducting the job finding campaign. We offer customized brainstorming and problem-solving to job seekers.