Careers in International Public Service: Finding your Place on Beaten Paths or Roads Less Traveled

Friday, October 20, 2017 from 12:30 PM to 2:00 PM (PDT)
Event Details
"CAREERS IN INTERNATIONAL PUBLIC SERVICE: FINDING YOUR PLACE ON BEATEN PATHS OR ROADS LESS TRAVELED"
Derick and Jennifer Brinkerhoff
Event information:
Directions to UCR: https://www.ucr.edu/about/directions.html
Location of venue: http://campusmap.ucr.edu/?loc=INTS 

Parking is not free for this event. Attendees must purchase a parking permit via a permit dispenser in Lot 24 (not the parking kiosk/information desk): 

http://campusmap.ucr.edu/?loc=Lot24 



We can make reasonable accommodations for those with special needs if informed at least two weeks ahead of the event date.
Map from Lot 24 to INTS 1111: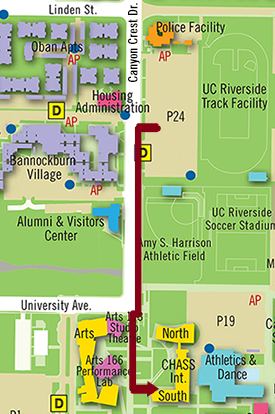 Seminar Summary: 
Derick and Jennifer Brinkerhoff explore career paths in international public service, and offer practical guidance on finding the right mix of public service objectives, degree programs, job opportunities, and personal lifestyle choices. The Brinkerhoffs' concept of career evolution is encapsulated in a framework they call the service-choice spiral. This model rejects standard set-the-goal, plot-the-steps planning and pulls one's personal values, skills, professional goals, and sense of altruism into a solid career choice. Through profiles of several public service professionals, the Brinkerhoffs illustrate how real people have faced the choices that confronted them in the course of their careers.
Bios: 
Dr. Derick W. Brinkerhoff is Distinguished Fellow in International Public Management with RTI International (Research Triangle Institute) and is an associate faculty member at George Washington University's Trachtenberg School of Public Policy and Public Administration. His research and consulting focuses on policy implementation, democracy and governance, decentralization, citizen participation, social accountability, partnerships, and fragile conflict-affected states. He has published extensively, including eight books and numerous articles and book chapters. He holds a doctorate in public policy and administration from Harvard University, and a masters in public administration and a BA from the University of California, Riverside. He is a Fellow of the National Academy of Public Administration. In 2005 he received the Distinguished Alumnus Award from UCR's Alumni Association.
Dr. Jennifer M. Brinkerhoff is Professor of Public Administration and International Affairs at the Elliott School of International Affairs, George Washington University, where she is Associate Dean for Faculty Affairs and Special Initiatives. She holds a Ph.D. in public administration from the University of Southern California in Los Angeles. Her most recent book is Institutional Reform and Diaspora Entrepreneurs: The In-Between Advantage (Oxford University Press, 2016). She won the 2016 Fred Riggs Award for Lifetime Achievement in International and Comparative Public Administration, and is an elected Fellow of the National Academy of Public Administration. She has advised and provided training on diasporas and development to bilateral assistance agencies, NGOs, and foundations.
When & Where

900 University Avenue
University of California, Riverside
Interdisciplinary South 1111
Riverside, CA 92521


Friday, October 20, 2017 from 12:30 PM to 2:00 PM (PDT)
Add to my calendar
Organizer
The UCR School of Public Policy (SPP) is the latest addition to the University of California, Riverside academic enterprise. With a Master of Public Policy program and a forthcoming undergraduate public policy major, the UCR School of Public Policy is training a new generation of forward-thinking public policy leaders equipped to address the complex, interrelated challenges of poverty, disease, climate change, pollution and more. The School of Public Policy includes the Dean's Office and several research centers: the Center for Sustainable Suburban Development, the Presley Center of Crime and Justice Studies, the One Health Center, the Blum Initiative for Global and Regional Poverty, and the Center for Social Innovation.