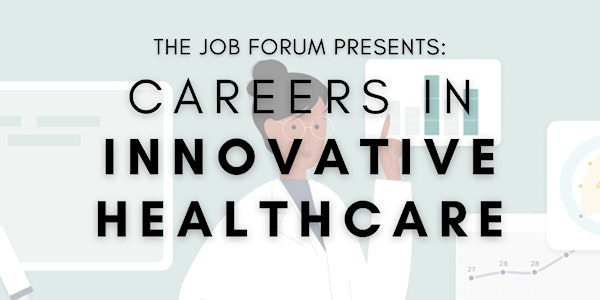 Careers in Innovative Healthcare
Opportunities for your career with Innovative Healthcare Companies !
About this event
Thursday, March 2 at 6pm on Zoom.
Job hunters, are you interested to work for companies in the Healthcare sector? We invite you to a Job Forum Workshop focused on job search and career advice from managers who work with innovative healthcare companies.
The Bay Area is a global leader in health, pioneering advances from biotechnology to how healthcare organizations deliver care. The Bay Area is dominated by four high quality healthcare systems: Kaiser, Sutter Health, University of California San Francisco (UCSF) Health, and Stanford Health Care. There are also smaller systems, such as John Muir Health and El Camino Health, who play key roles in geographic markets.
This expert panel discussion and Q&A is with leaders who know and work at innovative Bay Area healthcare companies. The panel will discuss careers in healthcare that include critical support for clinical roles and go beyond the clinical or medical roles. These include jobs in data analytics, business strategy, IT, human resources, marketing, sales, project or program management, medical coding, medical administration, billing and auditing, and more. Come and explore, get advice and make contacts.
---
The Job Forum is the SF Bay Area's longest running job search career service. The Job Forum has been providing career and job advice on Wed and Thursday evenings for more than 70 years, with up-to-date advice and coaching directly from managers who work in companies here in the SF Bay Area. Please consider a donation.
https://thejobforum.org/donate/
By signing up, you agree to receive future emails from The Job Forum.