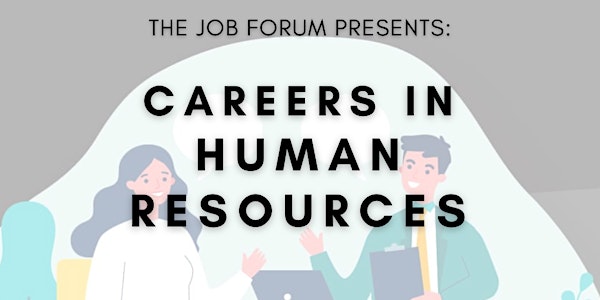 Careers in Human Resources
Talent Acquisition, Recruitment, Training, Compensation, Benefits, Diversity, Employee Retention, Health and Safety and Employee Engagement
By The Job Forum, sponsored by SF Chamber of Commerce
Date and time
Starts on Thursday, April 20 · 6pm PDT
About this event
Join us for an impressive career panel discussion with experts for "Careers in Human Resources."
Sign up for our Meeting which will take place via Zoom (the link will be emailed to you before the start time.)
Managers who hold Human Resources jobs at local Bay Area companies will discuss and advise you and give you input on your job search efforts. They will try to be as helpful as possible with advice and contacts. They will discuss remote roles as well as hybrid and "in office" roles.
If you have wanted to get your next job in Human Resources, talent recruiting and staffing, managing and engagement, compensation and training, and more, now is your chance to come to talk it over at The Job Forum. We will discuss a range of Human Resources roles and what it takes to get hired.
6:05 – 6:15 pm Welcomes and Intros of our expert speakers.
6:15 – 6:25 pm Janet Beach, Chairman of The Job Forum, introduces panelists and we cover a wide range of hiring and career questions to help job hunters navigate the current economy
6:25 – 7:30 pm Q&A in chat and in open discussion
7:30 – 7:45 pm Wrap-up, action items and next steps… announcing upcoming Job Forum to help job hunters even more
In today's hybrid and remote digital workplaces, companies are expecting a lot from their HR teams.
Please plan to come and actively participate -with your zoom video on please- and ready to ask questions about your own job search and get advice and input from volunteers who genuinely want to help your job search
The Job Forum is the SF Bay Area's longest running job search career service.
The Job Forum has been providing career and job advice on Wed evenings for more than 70 years, with up-to-date advice and coaching directly from managers who work in companies here in the SF Bay Area.
The Job Forum hopes you will join us in this exciting tech careers workshop.
Please consider a donation of $15-$25 (We must cover our nonprofit's operating expenses)
https://thejobforum.org/donate/
By signing up, you agree to receive future emails from The Job Forum.
About the organizer
The Job Forum aims to help people help themselves in their job search. Our approach is focused on intelligently planning and conducting the job finding campaign. We offer customized brainstorming and problem-solving to job seekers.