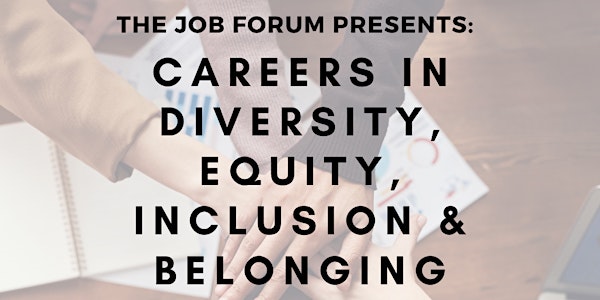 Careers in Diversity, Equity, Inclusion & Belonging (DEIB)
Job hunters - Come to explore a Career in Diversity, Equity, Inclusion, and Belonging with experts in the field.
About this event
Thursday, June 2 @ 6pm on Zoom.
Today's companies know that a workforce that is representative of diverse talents and creative contributions from all kinds of people is fundamental for a prosperous and healthy workplace and for building the future of their companies.
Come to hear candid advice about succeeding in the field of DEIB that will be actionable for job hunters and those who want to work in this field. You will meet and hear from experts who work in DEIB at Bay Area global technology companies, media companies, a leading sporting goods company , and from consultants and advocates for inclusion.
The range of job titles and roles for working in the field of Diversity, Equity, Inclusion, and Belonging are growing and there are more opportunities than ever to have a positive impact.
Job hunters if you are interested in this work, you are invited to come to special career panel discussion event at The Job Forum to ask questions and make connections with our panel of experts in the DEIB field.
The discussion with experts will be wide ranging and will include how companies can adopt and advance principles of inclusion that are about hiring and organizational culture and more …. for example, we will discuss inclusion as it is reflected in products, research, board of advisor choices, and vendor choices.
Register on Eventbrite to reserve your spot!
The Job Forum is the SF Bay Area's longest running job search career service. The Job Forum has been providing career and job advice on Wed evenings for more than 70 years, with up-to-date advice and coaching directly from managers who work in companies here in the SF Bay Area.
Please consider a donation of $10-$25
https://thejobforum.org/donate/
By signing up, you agree to receive future emails from The Job Forum.