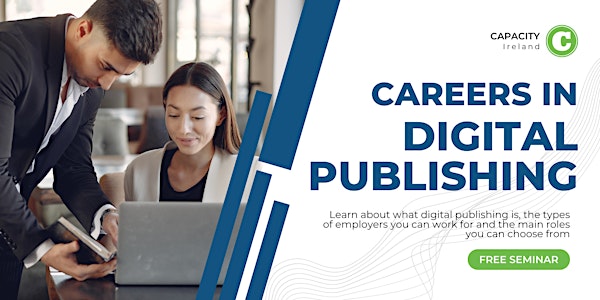 Careers in Digital Publishing Seminar
Love everything to do with books and literature? Ready for your next big challenge? Thinking about a career change? This seminar is for you!
About this event
Learn about what digital publishing is, the types of employers you can work for, and the main roles you can choose from, with keynote speakers from the Irish publishing industry.
Join us for a seminar on jobs in digital publishing that promises to be interesting for anybody looking to break into the industry or just wanting to learn more. This online event will introduce you to the people shaping the future of digital publishing here in Ireland, plus we will outline the careers and opportunities available in this exciting industry.
The two-hour workshop's goal is to encourage participants to consider a career in digital publishing.
Session Description:
Q&As with experts from various tiers of the Irish publishing industry
Offer advice and assistance in the form of CV and interview pointers to people trying to get into the field.
Through case studies and job profiles, highlight the range of professional options available in publishing, from editorial to production;
Introduction of the new ECVET for Digital Publishing certification supported by Erasmus Plus