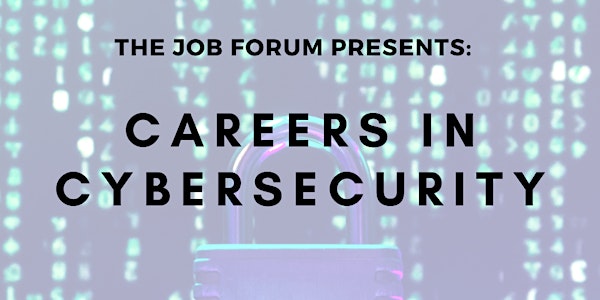 Careers In Cybersecurity
You are invited to a Cybersecurity Company Careers panel discussion event hosted by The Job Forum
About this event
Careers in Cybersecurity have a great future and positive growth trajectory.
The field of Cybersecurity offers a combination of fascinating work at technology companies -or any large or medium company- and a meaningful mission to protect data privacy.
Thursday November 3, 2022 @ 6pm on Zoom.
There is enormous demand for cyber security talent. There is a gap between the number of technology workers employers need for cybersecurity work and the number of candidates for the available jobs.
Women currently make up a small portion of the world's information security workforce and there are many opportunities for women-and men - to transfer into cybersecurity roles and companies.
Everyone agrees changing to include more smart women in the field will be a huge benefit! At our event we will discuss some important points for facilitating this change to include more women.
Come and talk to our panel of experts, women and men in cyber, who work in the field and find out what your next career in Cybersecurity can be!
Sign up with Eventbrite and once you're confirmed we will send you the Zoom link and password one hour prior to the event.
The event is free , but please consider donating to The Job Forum to allow us continue supporting jobseekers in the SF Bay Area.
Donate via:
Paypal.me TheJobForum.org/donate
Or text "thejobforum" to 41444
Or visit https://thejobforum.org to learn more or donate via credit card or check.
By signing up through Eventbrite you will be added to the Job Forum's email list.
Privacy notice: The Job Forum will be recording this event to develop follow up for helpful posts in our newsletter.