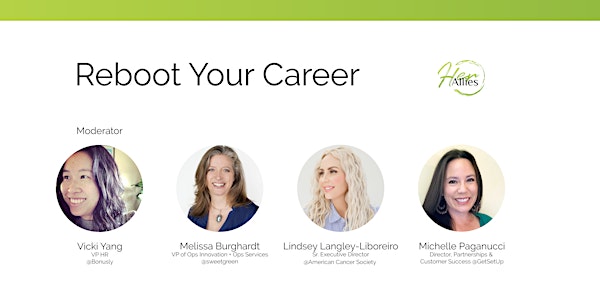 Career Reboot Roundtable
Reflections and tips from women that have successfully restarted their careers after a break
About this event
Join us as we share stories around a topic that is most relevant to our organization - "How can women who take a break get back into the workforce?"
Vicki Yang, VP HR at Bonusly will be hosting a panel of women with successful careers today, who have been through the challenges of taking a break and rebooting their careers.
Lindsey Langley-Liboreiro, Sr. Executive Director at American Cancer Society, Melissa Burghardt, VP, Ops Innovation at sweetgreen, and Michelle Paganucci, Director, Partnerships & Customer Success at GetSetUp will share stories about their career breaks and tips and tricks that helped them get back on a career path.
Sign up for this event today and get inspired on your back-to-work journey!