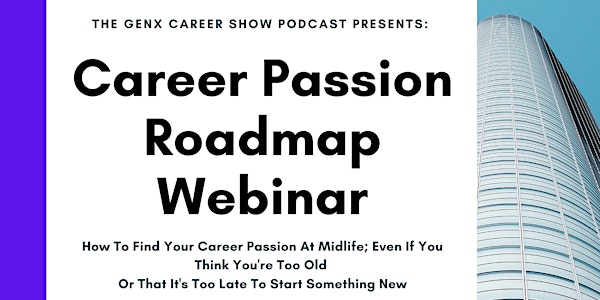 Career Passion Roadmap Webinar For Midlife Professionals
How To Find Your Career Passion At Midlife Even If You Think You're Too Old Or It's Too Late To Start Something New
About this event
The Truth That Is Keeping Midlife Professionals STUCK In A Draining, Soul Sucking Career That Doesn't Challenge Them Or Provide Them With A True Sense Of Fulfillment Or Purpose, And What To Do Instead…
I'm your host, Kay Kirkman, and I invite you to join me on Saturday, August 13th at 7pm EST for a life changing webinar in which I'll share…
The one thing you should be doing every day if you're currently at a job you hate every day and why you should start doing it so that you can finally break free of your career rut
The magic key that will unlock the door to your career passion (most midlife professionals are not doing this, and that's why they stay in the same unhappy role year after year after year.
Two of the main mistakes you're making when it comes to your career passion that keep you repeating the same patterns over and over hoping to get different results (this is the definition of INSANITY)
The surprising step that most midlife professionals never take that could literally move them from confusion to clarity in their career in record time.
Don't let another year go by where you're NOT doing work that is both meaningful and purposeful!  Grab your seat today and learn the secret to stepping into your career passion now!