Live-Stream Panels into your classrooms - Students are able to ask Questions LIVE
About this event
Cue Career Live-Streams panels of industry experts into classrooms and students are able to ask Questions LIVE of the panel. This is a FREE Resource for schools.
Our Panel on Wednesday, February 26th at 11:15am will be around Medical-Health Science track. It will be a 30-minute session between 11:15am-11:45am Pacific time
We use Zoom.us - you can download Zoom for free and set-up a free account Here Zoom.us
Heather Wetzler from Cue Career will be moderating - if you have any questions or want to test the process beforehand - please contact Heather at HWetzler@CueCareer.com or her cell: 1-917-541-4549
The panel is sponsored by the non-profit ASCO and Cue Career
Teachers will be able to submit questions in real-time in the Zoom chat
This technology checklist is a must have for a successful session:
1. Projector/Screen (or interactive whiteboard)
2. Computer with internet connection, microphone and speaker
3. Internet browser Google Chrome, FireFox, Safari, Microsoft Edge or Internet Explorer 10 and above.
4. Built-in camera or webcam
This Medical-Health Sciences panel consists of the following panelists:
Dr. Muriel Martinez
Dr. Muriel Martinez graduated in 2013 with a Doctor of Optometry degree from the University of Houston College of Optometry. During her externships at Eye Center of Texas and The Good Neighbor Clinic, she gained valuable clinical training in Lasik and cataract surgery co-management as well as diagnosis and management of a variety of ocular diseases including diabetic retinopathy and glaucoma. Upon completing her degree, Dr. Martinez completed a residency in pediatrics, brain injury, and binocular vision at the University of Houston College of Optometry.As a resident, Dr. Martinez provided bedside eye care to patients at the TIRR Memorial Herman Brain Injury and Rehabilitative hospital, as well as complex examination of special needs children at the University of Houston College of Optometry. She was awarded The Terrance N. Ingraham Pediatric Optometry Residency Award given by the American Optometric Foundation, which is awarded to 3 pediatric residents nation wide. This award is given to talented optometric residents who demonstrate a passion and commitment to practice, research, and education in the field of children's vision.
Autumn Killop - Doctor of Optometry Candidate (Class of 2021)-3rd Year Student - Autumn will discuss the process of going to school for Optometry and what to expect once you are in school. Autumn will also discuss where to find resources to pursue your schooling, such as scholarships.
Dr. Jeffery Lewis comes from the East coast and brings with him a wealth of knowledge. He studied at the Illinois College of Optometry in Chicago, Illinois. After graduating in 2012 with his Doctor of Optometry, he joined the All About Eyes team in Champaign, Illinois. To further his community outreach, Dr. Lewis currently mentors' students in high school, undergraduate programs, and optometry programs. He aids in course selection, shadowing opportunities, and provides guidance in their next moves for their career. Recently, he helped facilitate a vision screening program for a 3rd year optometry student in progress of implementing the program in Egba, Nigeria.
----------------------------------------------
Cue Career likes to have some questions beforehand from students to kick-off the panel - please have your students watch these two videos and submitted questions no later than February 23rd to Heather - Hwetzler@CueCareer.com
https://www.cuecareer.com/association-video/doctor-of-optometry-candidate-2021-southern-college-of-optometry-asco/
https://www.cuecareer.com/association-video/optometrist-asco/
Can't wait for you to join us!
This is the Zoom Link for the event:
-------------------------------------------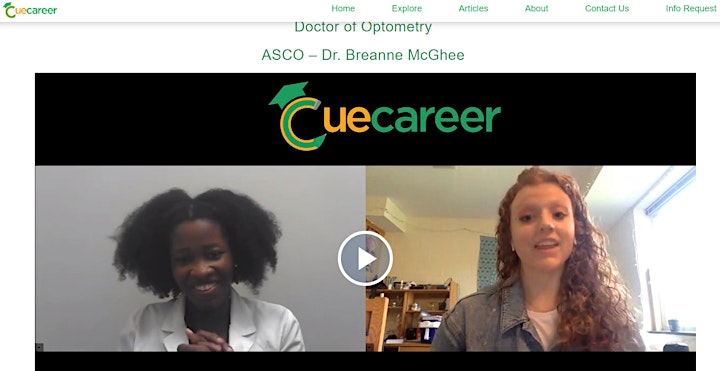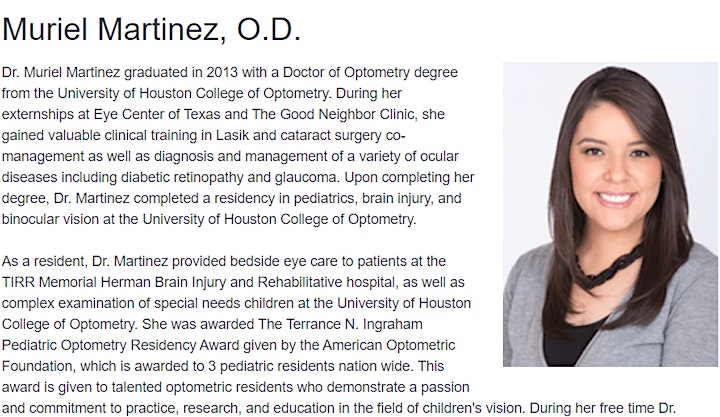 Organizer of Career in the Classroom - by Cue Career - Medical/Health Sciences Track