Trade Excuses for Action in one day! Join our Career Hacking Bootcamp to start building the career of your dreams now!
About this Event
Are you ready to take your career to the next level? 🤔
Trade Excuses for Action and join our immersive retreat to build the career of your dreams.
*Book NOW and get up to 35% OFF regular ticket prices with our Early Bird and Group Discounts!
The Career Hacking Bootcamp is a full day workshop on November 30th, 2019 in Barcelona dedicated to helping you develop the tools necessary to build the career of your dreams.
This event offers you a life transformation and immersion you can't experience in our 2-hour monthly meetup sessions.
We've been where you are! 👭
Passing the weeks, months, years in a 9 to 5 that doesn't really fill you with purpose.
Working really hard, and often not getting recognised for all the amazing work we do.
Unsure and uncomfortable about how to ask for MORE
Do these sound familiar?
Then our Career Hacking Bootcamp is designed especially for you!
Building out your dreams is exactly like planning a trip. You need to know where you are going, when, how you are going to get there and what to pack. And often, to plan the perfect trip we need a little help!
The Career Hacking Bootcamp is about intentionally designing the career of your dreams, having a plan on how to get there and developing the tools you NEED to pack in your suitcase.
We want to help you create a career you are constantly EXCITED about, mighty PROUD of, fills you with JOY.
There's so much in store for you! 🙋‍♀️
During our 1 day workshop, we will guide you through:
Identifying your Career Objectives, Ambitions, and even the crazy dreams you've been too reluctant to say out loud.
Mapping out a plan to achieve your goals - using tools that Startup CEOs (even Google) use to guide their OWN companies to win!
Unlocking the secrets of confidence so you can focus on your own strengths and achievements that will help you face and defeat your Fears!
Using all of that in order for you to create an intentional personal brand that you can use to strengthen your reputation and influence
Making a self-care plan to manage pressure, stress, successes and setbacks in a balanced way. So that you don't lose sight of what's most important = YOU.
Not only will you have the support of the Career Hacking for Women team, you will also have the support of other ambitious women joining the bootcamp to help YOU keep accountable to your ambitions and succeed!
With a new year coming, there's no better time than today to start planning for your dream career. For your dream life!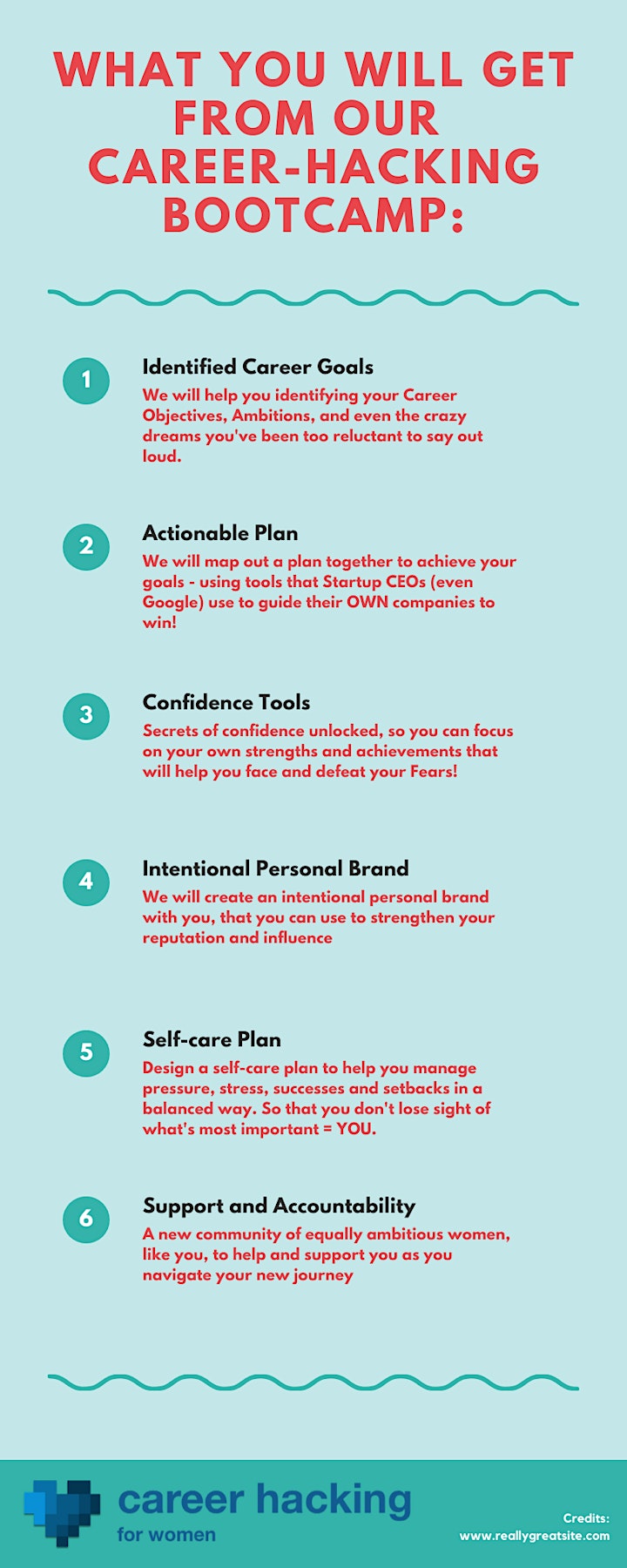 We offer early bird discounts for you and for friends!
Regular Price €198
Group Discount Regular €180 (minimum 2 tickets)
💙We can't wait to see you and be there for you as you begin your journey to your dream lives!
!!! Venue TBD !!!
If you're unable to make it to this bootcamp, but would like to be informed of future events please join our community here and get exclusive access to content and discounts to upcoming workshops that are available to our community members.
We look forward having you join us!
P.S.
If you have any questions or clarifications, you can send us an email at info@careerhackingforwomen.com