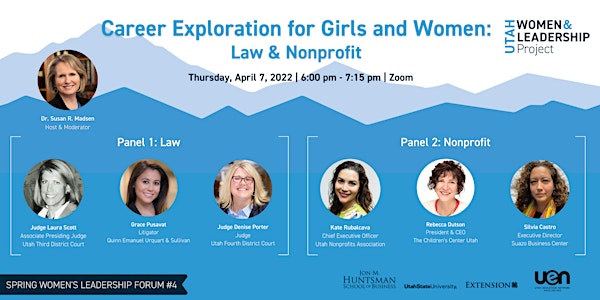 Career Exploration for Girls and Women: Law & Nonprofit
The UWLP invites you to join us for a Women's Leadership Forum focused on exploring law and nonprofit careers for women.
About this event
The Utah Women & Leadership Project invites you to join us for our fourth Spring Women's Leadership Forum.
This final Women's Leadership Forum of the semester is geared toward introducing career opportunities to Utah girls and women in two fields: law and nonprofit. It is specifically designed for young women in middle- and high-school, as well as college students and women returning to college later in life. This Zoom webinar will consist of two panels consisting of professional women who have focused their careers in these areas in various ways. Judges, lawyers, and nonprofit executives will share their experiences and insights about choosing to work within their chosen fields. By understanding different career options with more clarity, we hope you can make more informed decisions about college majors and your potential professional contributions in the future. Join us as we discuss what you can do now to set your course—whether full-time, part-time, or volunteer work—for a possible career in the legal and nonprofit professions.
Sponsors: Jon M. Huntsman School of Business and Extension at Utah State University & Utah Education Network (UEN)
Panelists
Judge Laura S. Scott was appointed to the Third District Court in October 2014 by Governor Gary R. Herbert. She took the bench in January 2015 and serves Salt Lake, Summit, and Tooele counties. Judge Scott received a bachelor's degree, cum laude, from the University of Utah in 1990, graduating Phi Beta Kappa. She graduated cum laude with a Juris Doctor degree from the Sandra Day O'Connor College of Law at Arizona State University in 1993. After graduation, she served as Assistant General Counsel for the University of Utah from 1993 to 1997. She then joined the law firm of Parsons Behle & Latimer, where she maintained a commercial and real estate litigation practice, including trial and appellate work. She served on the firm's board of directors from 2010 until her appointment to the bench. Judge Scott is an American Bar Foundation Fellow, a former vice chair of the Ethics and Discipline Committee of the Utah Supreme Court, and a past president of the Salt Lake County Bar Association. She received the Utah State Bar's Professionalism Award in 2014. Prior to her appointment, she served on the boards of Salt Lake Valley Habitat for Humanity and the University of Utah Crimson Club.
Grace Pusavat is a litigator at Quinn Emanuel Urquart & Sullivan. Her practice focuses on complex commercial and employment litigation. She is admitted to practice in Utah and Nevada. Grace received her bachelor's degree from Cornell University and her Juris Doctor degree from Brigham Young University. She currently serves as Chair of the Community Outreach Committee for Women Lawyers of Utah and Immediate Past President of the Young Lawyers Division of the Utah State Bar.
Judge Denise M. Porter was appointed to the Fourth District Court in December 2020 by Governor Gary R. Hebert. She serves Juab, Millard, Utah, and Wasatch counties. Prior to her judicial appointment, Judge Porter served as a member of the Utah Board of Pardons and Parole for five years. Judge Porter received two bachelor's degrees, magna cum laude, from the University of Utah in 1995, in Political Science and Psychology. She obtained her law degree from the University of Utah's S.J. Quinney College of Law in 1998. Judge Porter began her legal career clerking for Judge Tyrone Medley and Judge William Thorne in Utah's Third Judicial District. After her clerkship, Judge Porter spent the next 17 years at Salt Lake Legal Defender Association where she worked as a felony trial attorney. She was part of the Legal Defender capital representation team specializing in mitigation. Judge Porter currently serves on the Utah Supreme Court's Advisory Committee on the Rules of Criminal Procedure and is a board member for Women Lawyers of Utah.
Kate Rubalcava has roots in community activism and resident leadership in a two-decade career working in the nonprofit sector serving both local and global communities. As the CEO of the Utah Nonprofits Association (UNA), she leads a dynamic team that provides training and resources, cost-savings benefits, and sound nonprofit-friendly policies and legislation on state and federal levels, and she is leading UNA's shift to become a Race, Equity, Diversity, and Inclusion focused organization. Prior to joining UNA in 2016, Rubalcava led a statewide coalition to provide Earned Income Tax Credit outreach and free income tax preparation, established community schools, served as a Peace Corps volunteer in St. Kitts-Nevis, and taught as adjunct faculty at Westminster College. An active member of her community, Kate has served on a variety of nonprofit boards and. Currently, these engagements include serving as Secretary and Board Member for the National Council of Nonprofits, as a member of the Alumni Leadership Council for Salt Lake Community College, and as a mentor with Casa Quetzalcoatl. Kate earned an associate degree in Criminal Justice from Salt Lake Community College, as well as a Bachelor of Science degree in Political Science and a Master of Education degree in Educational Leadership and Policy from the University of Utah.
Rebecca Dutson is President and CEO of The Children's Center Utah, where she combines her passion for changing lives and building strong community with more than 25 years of local and national nonprofit leadership. She drives the organization's vision, mission, and strategy, and she inspires and leads her team of more than 100 employees. Rebecca was recognized by Utah Business as one of Utah's Rising Stars—Forty Under 40, and 30 Women to Watch. She served as a member of Salt Lake Chamber Board of Governors and chaired the annual Women & Business Conference. Prior to her current role at The Children's Center Utah, Dutson worked for United Way Worldwide (UWW) as its Senior Director of Major Donor Relations. While there, she led its strategic effort to capitalize giving by high-net-worth individuals, and she focused on helping UWW integrate major individual giving and community impact to achieve community goals. Locally, she served as Executive Vice President and COO of United Way of Salt Lake, where her approach to resource development led to its strongest financial performance. Rebecca earned a Bachelor of Science degree in Marketing from the David Eccles School of Business at the University of Utah.
Silvia Castro is the Executive Director of Suazo Business Center, a Utah nonprofit organization focused on economic mobility for the region's underserved communities. She has more than 20 years of experience working with nonprofit, government and for-profit organizations including consulting for Fortune 500 companies, the State of Utah, Salt Lake City, Salt Lake County, and forward-looking non-profits such as the Utah Microenterprise Loan Fund, the Austin Project, in Austin, TX, and the Goldman Sachs 10K Program. Ms. Castro serves on the Board of Trustees for Salt Lake Community College, the Community Advisory Board for the SF Federal Reserve, the Executive Committee of Envision Utah, the Wasatch Front Regional Council's Economic Development District, the Utah Advisory Board for Western Governors University, the Small Business Advisory Board for MOFI, and she is a Senior Advisor to the Kem C. Gardner Policy Institute at the University of Utah.  She holds a Bachelor of Arts degree in International Business from Westminster College of Salt Lake City and a Master of Business Administration from the University of Utah.