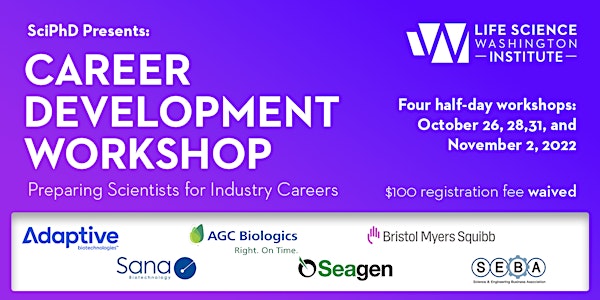 Career Development Workshop: Preparing Scientists for Industry Careers
Join SciPhD for an interactive workshop to equip you to compete for a position in the scientific industry and succeed in your career!
About this event
About this Event
With an increasing number of available jobs shifting from academia to industry settings, understanding the skills necessary to compete for and succeed in an industry position is critical. This four-part workshop will provide you with interactive experiences and guidance as you prepare to move beyond academia and pursue your career!
Who should attend? This workshop series is for graduate students, doctoral candidates and post-docs looking for professional guidance as they pursue their careers. Participants may still be enrolled in their professional programs or recent graduates.
Date and Format: The virtual workshop will take place over the course of four half-day sessions, beginning October 26th and includes various virtual networking receptions with representatives from sponsor companies. Students are expected to attend the majority of sessions so RSVP for ALL FOUR SESSIONS. If your schedule conflicts with the workshop schedule, please notify Aylin Kim, aylin@lswinstitute.org, for arrangements to be made.
Registration: The $100 registration fee for this workshop is waived due to the generous support of Bristol Myers Squibb, but registration is required to receive course materials. As part of your registration, you will also receive access to Flamingo, the virtual career coach, to help guide you through the job search process.
Overview of Workshop Modules
The Business of Science
Your Three Identities
24 Core Competencies
Types of companies and jobs
Developing a targeted resume
Communications for Scientists
Technical Literacy
Applied Communications in Interviewing
Emotional Intelligence
Social Intelligence
Project Management
Networking for Success
Initiating Conversations
Effectively building your network
Successful negotiation
About SciPhD:
SciPhD provides training for scientists who want to transition from academia to non-academic careers.
Randall Ribaudo, Ph.D. is co-founder of Human Workflows and SciPhD. Dr. Ribaudo has over twenty years of experience in the Scientific Research and biotechnology field and has successfully made the transition from academia to industry. Dr. Ribaudo co-founded Human Workflows after more than five years at Celera Genomics where he was a liaison to pharmaceutical, biotechnology and academic communities, served as product manager for the mass spectrometry software group, led a task force to define strategic direction and advised on product development for enterprise solutions for information integration. Human Workflows provides consulting services to the biotech and pharmaceutical industries to improve their information integration processes. Dr. Ribaudo's experience as an academic and industry scientist, coupled with his experience consulting with industry scientists provides unique insight to the critical skills necessary to promote success in academic and industry settings, and forms the basis for the SciPhD training programs. The combined communications and behavioral sciences talents of co-founder Larry Petcovic, and the academic and industry experience of Dr. Ribaudo have resulted in training programs that are deployed at over 60 institutions in the United States and abroad.
Larry Petcovic started his career as a Health Physicist. He quickly recognized the importance of mastering communications and added a degree in applied behavioral sciences with continuing studies in the social neurosciences. He continues to consult as an Executive Communications Coach with Fortune 100 clients as well as startups. His experience in 360° performance coaching, behavioral based blended training, process improvement techniques, selling skills and leadership development provides an in-depth corporate understanding. Larry has served in Training and Human Resources VP positions in a variety of industries. Larry holds a BS in Chemistry, an MS from Rutgers University in Environmental Radiation Sciences, an MS from Johns Hopkins University in Applied Behavioral Sciences and additional graduate studies in Executive Development at George Washington University