Event Information
Location
Launch Fishers
12175 Visionary Way
Theatre
Fishers, IN 46038
Description
THE MATRIX CAREER DEVELOPMENT SERIES:

October 17: The Matrix Career - Your Career has entered the Matrix or have you always been there?

November 28: Who Are You in The Career Matrix? Neo, Morpheus, Trinity, Agent Smith, Oracle?

December 19: The Blue Pill Matrix Career: Introduction Session 1 of 2

January 16: The Red Pill Matrix Career: Next Steps Session 2 of 2

February 20: Finding Career Meaning in The Matrix: Surviving Session 1 of 2

March 20: Finding Career Meaning in The Matrix: Thriving Session 2 of 2

April 17: The Career Matrix Reloaded - Staying Focused

May: There will be no Career Development Workshop in May

June 15: The Career Matrix Revolutions - Self Employment
Is you career in the Matrix?
You are stuck in an unfulfilling job. You dream of getting a promotion, but it's just not happening. You want to move into a different industry, but you don't have the time.

You're already a master of your trade, a skilled project manager with years of valuable experience but you do not have the connections or opportunities to move up or out. The chance of improving your job prospects in an increasingly competitive job market can be limited.

If any of these situations sound like you, then it's clear that you are being haunted by those distracting mind agents in the Matrix. You see only problems, rather than solutions.

The fact is that, like Neo, you have a choice. It's only your mind and center of knowledge telling you otherwise.

WAKE UP! You are 'The One'

Agent Smith: "You can't win, it's pointless to keep fighting! Why, Mr. Anderson? Why do you persist?"
Neo: "Because I choose to."
—The Matrix

Get valuable techniques and tools to develop your career outside the Matrix!
Join us the 3rd Wednesday of each month at 5:30pm as Robby Smith teaches techniques to help you win on the job hunt.
The Career Development Workshop takes place immediately prior to our Dinner Program. Please register for each event separately.

About Robby Smith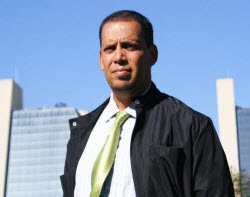 Robby brings 30 years of recruiting expertise combined with an intuitive skill for assessing individual talent and organizational needs when he partners with his corporate clients. He has conducted a multitude of searches from the front desk to the "C" Suite. Currently specializes in Information Technology Recruitment.
What makes Robby unique as a recruiter is his keen ability to identify exceptional candidates. His perseverance and ability to understand each individual client's needs have allowed him to complete some extremely difficult searches. His talent lies in separating excellence from mediocrity and delivering only the most prolific impact players to clients. Robby serves as a strategic partner for his clients by evaluating candidates intangible assets that make them truly unique to each organizations culture.
Date and Time
Location
Launch Fishers
12175 Visionary Way
Theatre
Fishers, IN 46038