A career advancement summit helping businesswomen 40 & 50+ market themselves and up-level their job search strategies.
About this event
You've got decades of experience under your belt. You've developed a valuable skill set, an expansive network of contacts, and a track record that speaks for itself. So why is finding a job, switching careers, or moving up the corporate ladder after 40 & 50+ proving harder than it should be?
Join SecondActWomen as we host the first Career Camp for businesswomen 40 & 50+ and offer focused insights, strategies, and expert-led workshops to help career seekers navigate gendered ageism in the workplace, market themselves to be discovered on LinkedIn, makeover their resume and adopt a career search strategy that opens doors.
Why is this Career Camp important you ask?
Age is the one critical element missing from 92% of D&I strategies.
61% of workers 45 years+ have either experienced workplace ageism or witnessed it.
29.5% of the 5,546 new hires in FY 2020 were under the age of 30.
Women can experience ageism earlier than men and tend to experience it more frequently than men.
At SecondActWomen's Career Camp, you'll…
Debunk myths around age to uncover your personal brand.
Build a career search strategy to amplify your value.
Get tips to better market yourself and be discovered on LinkedIn by recruiters.
Connect with other likeminded businesswomen 40 & 50+.
Walk away with a Career Camp workbook chock full of worksheets to help in your job search, such as: Personal Brand Statement Worksheet; Hard & Soft Skills Inventory Worksheet; 7-step Career Amplifying System; and Resume Makeover Tip Sheet
What to Bring
LinkedIn loaded on your phone to share your QR code (or business cards)
Pen, pencil or laptop/device to take notes
Resume (printed)
Printed Career Camp workbook and clipboard or hard surface to write on OR laptop pre-loaded with Career Camp workbook
Questions to ask our experts (see agenda below)
Positive attitude
Pre-Event Homework
Complete the Career Camp attendee questionnaire.
Career Camp Agenda
8:30am - Registration
9:00am - SecondActWomen Welcome
9:30am - De-stress Meditation
10:00am - #WomenDontExpire | 5 Ways to Play Age Card to Advance Career Search
11:00am - Career strategy | 7 Steps to Amplify Your Awesome
11:45am - Lunch | Food Trucks by Women over 40
12:45pm - Recruiter best practices | How to Be Found on LinkedIn
1:45pm - Your CV | Resume Makeover for Experienced Women
2:30pm - It's a wrap | Close & Thank You
3:00pm - Social | Bites, Beer & Bonding (RiNo Beer Garden)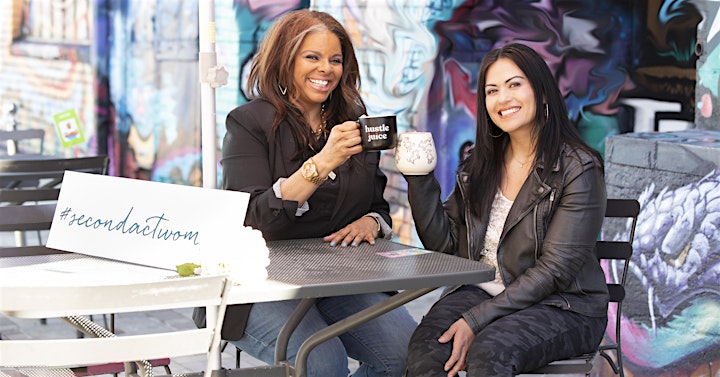 Career Camp is Powered by SecondActWomen [SA|W]
Founded in 2018 in Denver, Colorado by Barbara Brooks, 54 and Guadalupe Hirt, 48, SecondActWomen is a virtual and IRL community that provides development programs, digital tools, and meet-ups to help women 40 & 50+ reimagine what's possible in businesses, career, and life...and then, do it! Learn more at secondactwomen.com.
Organizer of Career Camp for Female Job Seekers 40 & 50+
We're ReDefining Women 40 & 50+ 
We're a new type of membership community.
SecondActWomen is a social enterprise providing live and virtual development programs, online tools, and monthly meetups to help women 40 & 50+ reimagine what's possible in businesses, career, and life...and do it!
We host hands-on workshops, intensive boot camps, signature events, digital resources, and done-for-you tools for GENXBOOMER women to thrive in their second act.