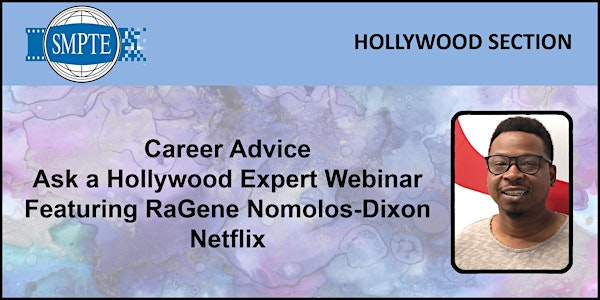 Career Advice-Ask a Hollywood Expert Webinar-RaGene Nomolos-Dixon, Netflix
Join SMPTE Hollywood for another "Ask a Hollywood Expert" webinar.
About this event
Join SMPTE Hollywood for another "Ask a Hollywood Expert", an exciting webinar series where some of the brightest minds in the entertainment industry share insights on building a rewarding career.
The series' next session will feature RaGene Nomolos-Dixon, a Cloud Engineer at Netflix where he supports and iterates on the challenges of remote editorial and global collaboration in production. He began his career serving as an M1A1 System Maintainer in the US Army stationed in Germany. Leveraging his newly refined engineering skills, he shifted toward a track in telecommunications and has worked in network management, systems administration, and supporting the future of creative work in media and entertainment for companies like 21st Century Fox and Activision. At. He earned a Bachelor of Science in Management Information Systems from Virginia College.
If you are interested in pursuing a challenging and rewarding behind-the-scenes career in Hollywood, this is an event you won't want to miss.
ReGene will join SMPTE Hollywood manager Kylee Peña in discussing his work and career.
Webinar details will be emailed to you after registration.
As always, SMPTE Hollywood events are free and open to all.
Register Now!