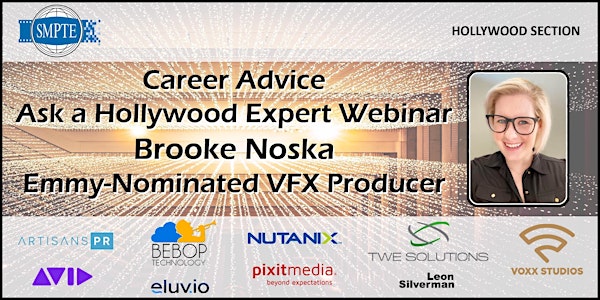 Career Advice-Ask a Hollywood Expert Webinar-Brooke Noska, VFX Producer
Another installment in SMPTE Hollywood's "Career Advice - Ask a Hollywood Expert" Webinar Series
About this event
SMPTE Hollywood will feature Emmy-nominated VFX producer Brooke Noska in the next edition of its webinar series Ask a Hollywood Expert. Noska will reveal how she got her start, discuss her work on such shows as Ratched, American Horror Story and The Orville, and offer advice to aspiring industry professionals eager to follow in her footsteps. Hosted by SMPTE Hollywood manager Kylee Peña, the webinar is scheduled for Thursday, October 1st at 12:00 p.m. PDT.
Aimed at young people interested in behind-the-scenes careers in the entertainment industry, Ask a Hollywood Expert features successful, young professionals, across post production, visual effects, editorial and other technical disciplines, talking about their work and careers.
Most recently VFX producer on the Netflix series Ratched, Noska brings a wealth of experience across episodic television, features and reality TV. In 2019, she was nominated for a Primetime Emmy Award for Outstanding Visual Effects for her work on Fox's sci-fi series The Orville and won an HPA Award for the same project. Her more than 30 other credits include American Horror Story, Agents of S.H.I.E.L.D., The Walking Dead, Scream Queens and Tales from the Dark Side.
As always, SMPTE Hollywood events are free and open to all, even non-members. Advanced registration is required.