Sales Have Ended
Registrations are closed
You have missed the registration deadline. For future events, please visit dementiafriendlylancaster.org.
Sales Have Ended
Registrations are closed
You have missed the registration deadline. For future events, please visit dementiafriendlylancaster.org.
Join us for a day of respite for care partners while offering lunch and musical engagement for you and your loved one with dementia.
About this event
Event Details
10:00-10:30am
Check in at Chapel Lobby
10:20-10:30am
DF Lancaster & MM Introduction
10:30-11:30am
Musical Memories Experience
11:30-12:30pm
Catered Lunch in Chapel
12:30-1:00pm
Transition to Adult Day Service area & Respite Activity
1:00-2:00pm
Activity for Care Partners
2:00-2:30pm
Attendees Re-group & Depart from GSV
As Dementia Friendly Lancaster, we strive to offer support, education and resources to people living with dementia and their care partners within our local community. Our hope is to see a community come together to support those impacted by dementia, help them to remain engaged in the community and thrive in their day-to-day routines. To meet this goal, the team will offer free or low cost dementia awareness training and related resources to businesses, faith communities, healthcare systems, and community members.
"Let's cultivate a community where we can age with dignity despite the diagnosis!" - Crystal Yunginger, Dementia Friendly Lancaster Community Coordinator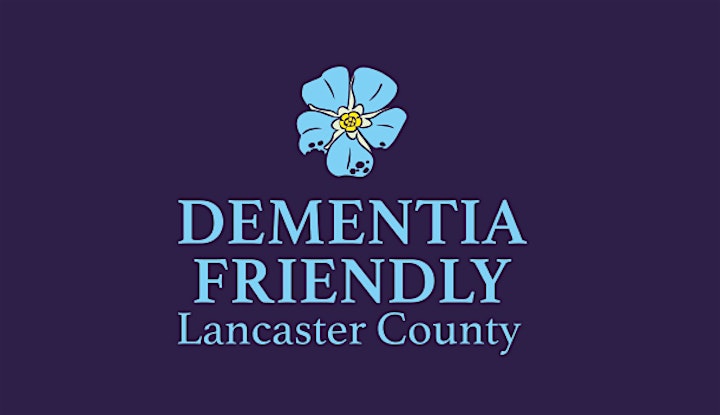 A Dementia Friendly Community is "a place where people living with dementia are understood, respected, and supported; an environment where people living with dementia will be confident that they can contribute to life" (Alzheimer's Society webpage). The Dementia Friendly Lancaster initiative supports this definition by providing training for individuals, businesses, and congregations in order to increase awareness and provide support for persons, and care partners within our community who live daily with the impact of dementia. Through specific training programs, memory cafes, providing educational resources and more, we seek to make Lancaster County a community where all who live with the effect of dementia feel safe, supported, and empowered.
The term care partner denotes an agreement between the person with a condition and their loved one to be partners in care as best as they can. To help each other with health, wellness and caring for each other. To do so as long as you can, while you can. Often times this agreement is a willing friend or family member, devoted to enhancing the quality of life of the individual with self-care difficulties.
As a care partner, we recognize the need for respite time and a planned opportunity to restore and rejuvenate your soul in a like-minded setting. This is where Care Partner Respite Days can help satisfy that need and go beyond the expectations of a respite timeframe.
The goal is to be able to provide a time devoted to the care partner while offering meaningful engagement in a safe, supervised setting for their loved one with dementia. During the day, a unique Musical Memories experience will occur for both to attend followed by a catered lunch.
Our lives are surrounded and enfolded in music. Every significant event in our lives is connected to and embraced by music. Music dwells within us and defines periods of our lives; both joys and sorrows. Music speaks to a part of the brain and soul that are less likely to be impacted by dementia. It rejuvenates memories and embraces the past. People, who cannot construct a sentence, may well be able to sing along with a song or carol. Classical music, jazz, or Beatles can open channels of emotion and connection.
Organizer of Care Partner Respite Day