Description
The first annual Cardio-Rheumatology Scientific Day will highlight key lectures, interactive learning and a panel discussion from experts in cardiology and rheumatology. The association between inflammation, cardiovascular disease and chronic rheumatic diseases will be discussed, including guidance on how to manage cardiovascular risk. The event includes breakfast, lunch, and is open to clinicians, trainees, students and researchers.
---
Agenda:
9:30-10:00 Registration and Breakfast
10:00-10:30 Atherosclerosis and Inflammation in the general population: New target for treatment
– Dr. Jacob Udell, Cardiology, Women's College Hospital
10:30-11:00 Cardio-Rheumatology Program: One Year summary
– Dr. Lihi Eder, Rheumatology, Women's College Hospital
11:00-11:30 The approach to the management of cardiovascular disease in rheumatic patients
– Dr. Shadi Akhtari, Cardiology, Women's College Hospital
11:30-12:00 Systemic Lupus Erythematosus and Heart manifestations
– Dr. Paula Harvey, Cardiology, Women's College Hospital
12:00-12:30 Lunch
12:30-1:00 The effect of inflammation on CV morbidity: Rheumatoid arthritis as a model
– Dr. Bindee Kuriya, Rheumatology, Mount Sinai Hospital
1:00-1:30 Cardiovascular imaging in rheumatology: Lessons learned
– Dr. Kate Hanneman. Radiology, Toronto General Hospital
1:30-2:00 Questions and Answers – Panel of Experts
---
Speakers: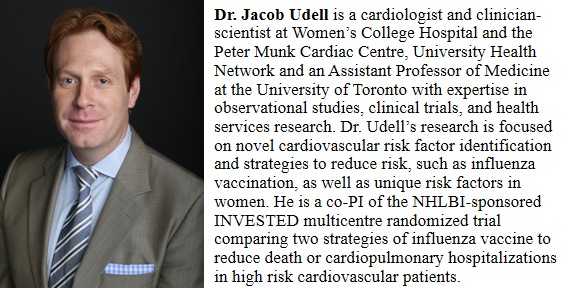 ---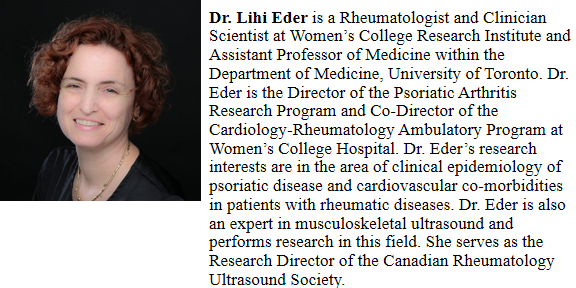 ---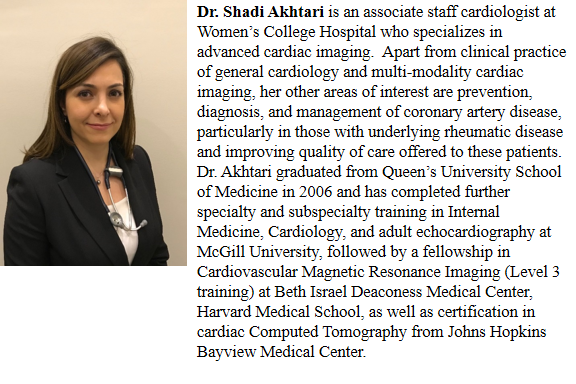 ---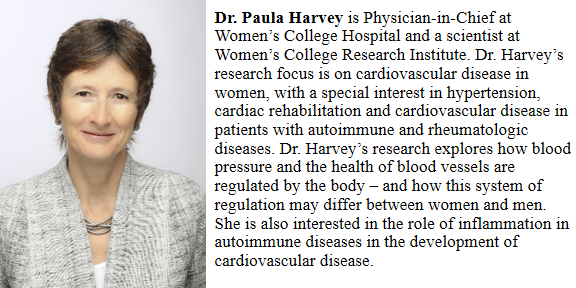 ---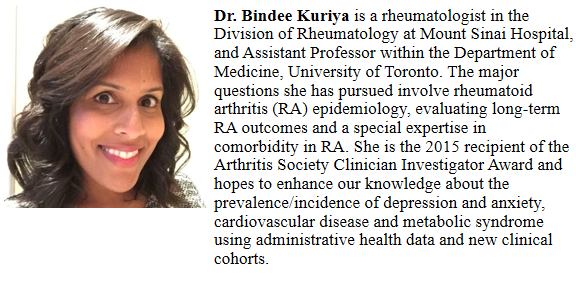 ---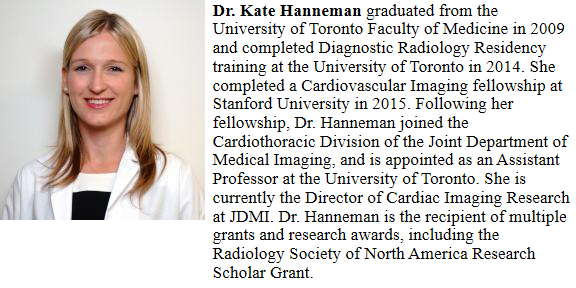 ---
Tickets:
• Clinicians: $25
• Trainees (residents, fellows, students): $10

**If you have dietary restrictions, please email us: keith.colaco@wchospital.ca
Parking:
• Access to the hospital's underground parking lot is off of Grenville Street.
For more information or inquiries:
E-mail: keith.colaco@wchospital.ca